Step up your wellness with an autumn walk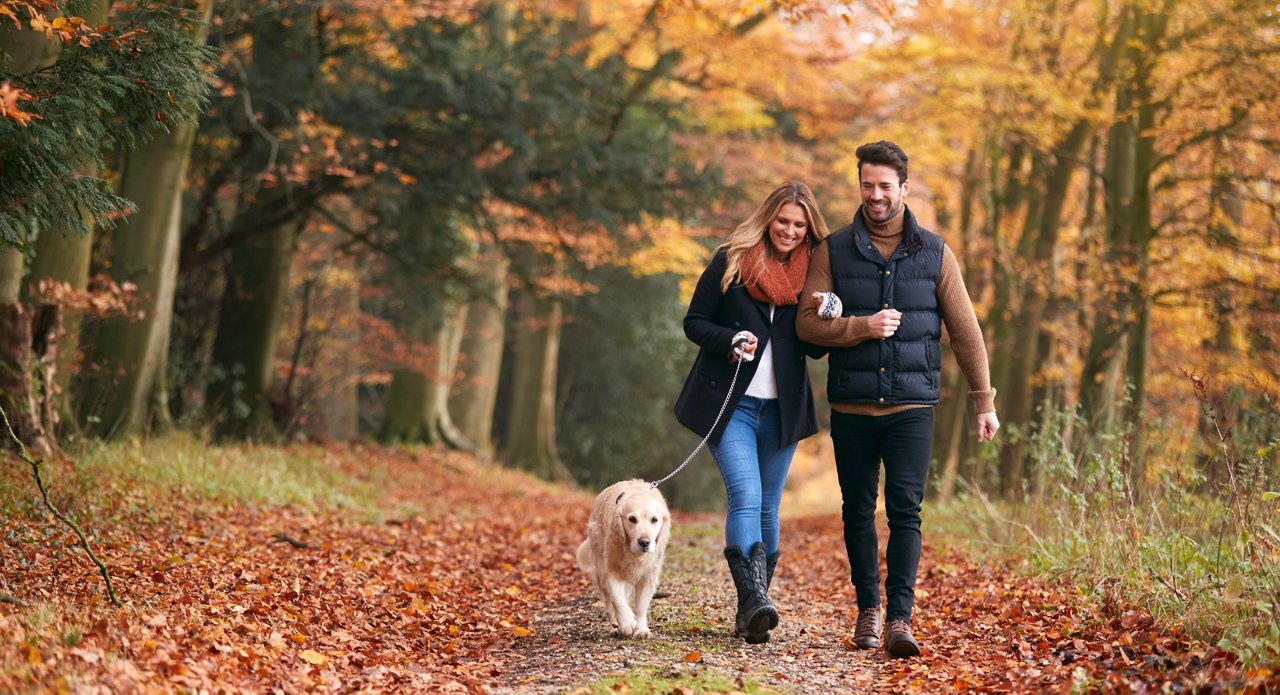 Fall is here! And with it comes nature's simple remedy to improve your well-being: Go for a walk. 
It's the perfect season to be outdoors in North Carolina.  
Temperatures are becoming comfortable.  
The air is fresh and crisp with lower humidity.  
The scenery is stunning, whether you are walking in the spectacular mountains, a colorful forest trail in the Piedmont, or along the peaceful coast. 
Fall even smells and sounds amazing. Nothing says fall like the smoky scent of a neighbor's fireplace on a cool morning, or hearing geese fly overhead while you're walking. 
Why I love walking in October
Besides the perfect temps and gorgeous scenery, walking in the fall is particularly meaningful to me. It was in October, 15 years ago, that I began my healthy living transformation by walking every morning.  
For the first time, I was able to keep up with an exercise habit. This was because I enjoyed it and it helped me feel so much better physically and emotionally. It made such an impact that I remember the day I started and celebrate it each year as my "fit-iversary."  
Walking has changed my life. It takes consistency to make a transformation that lasts, and walking helped me get there when nothing else worked. Walking became a gateway to other healthy habits, such as taking care of myself with better nutrition.  
That's why I'm so passionate about helping others discover the joys of walking, the benefits of exercise and healthier habits, and the power of small beginnings. 
Walking in nature can boost mental health
Health benefits of fall walking
The Arthritis Foundation website points out that walking does wonderful things for our overall well-being. Walking can help improve sleep and immune function; and it helps prevent or improve type 2 diabetes, high blood pressure, heart disease, and stroke. It makes your bones and muscles stronger and can help relieve joint pain. It's great for our brain's health too – improving memory and thinking, and preventing or improving depression. Walking can also contribute to maintaining a healthy weight. Becoming more fit increases your energy and stamina. 
Walking is one of the simplest exercises there is – and it's free. With so much to offer, there's a lot to love about walking.  
Fall is the perfect time to explore North Carolina's beautiful parks and trails
With a wealth of natural resources and parks, we've hit the lottery in North Carolina. Our state is home to 41 state parks, 10 national park sites, four national forests, and an endless array of county and city parks, trails, and recreation areas across the state.  
NC State Parks and VisitNC are excellent resources to discover places to walk and explore. 
Other fun and creative ways to walk outdoors in the fall
In addition to hitting a trail, there are many ways to be active outdoors in the fall that don't feel like a traditional workout.  
Have fun while racking up your step count when you: 
Find your way through a corn maze. 
Go picking at an apple orchard or pumpkin patch. 
Explore a historic downtown on a ghost walking tour. 
Walk your dog. 
Browse a craft or antiques festival. 
Stroll a farmer's market for fresh local produce. 
Play a game of touch football or soccer outdoors with friends. 
Take kids on a nature walk. 
Try America's fastest growing sport, pickleball. Many towns have free outdoor courts. 
Walk a 5K or 1-mile fun run event. 
Take in North Carolina's dazzling fall color
4 tips for starting a fall walking program
Sure, you can just go when the mood hits. But if, like me, you want the maximum benefits of walking for regular exercise, here are some tips to start. 
Find a good place to walk. Scout out safe routes ahead of time. There are many options: you could walk around your neighborhood, use the track or athletic field at a school, go on trails, or visit a park. Consider varying your locations to prevent boredom. 
Wear a good pair of athletic shoes. Only wear shoes that are comfortable and supportive. Trail shoes are recommended for hiking. 
Create a walking schedule. Determine what days and times you will walk, and schedule them in your calendar. 
Have a backup for rainy days. Don't let bad weather keep you from exercising – you can get in your steps indoors. Other indoor options include taking an exercise class, using a treadmill at the gym, or walking at the mall.  
Now is the time to experience all that autumn has to offer and to rejuvenate your body, mind, and spirit.
Take in the scenic views and fresh air while getting some exercise – a perfect way to spend a fall day! 
Browse related articles
© 2023 Blue Cross and Blue Shield of North Carolina. ®, SM Marks of the Blue Cross and Blue Shield Association, an association of independent Blue Cross and Blue Shield plans. All other marks and names are property of their respective owners. Blue Cross and Blue Shield of North Carolina is an independent licensee of the Blue Cross and Blue Shield Association.