3 vaccines to keep you healthy this winter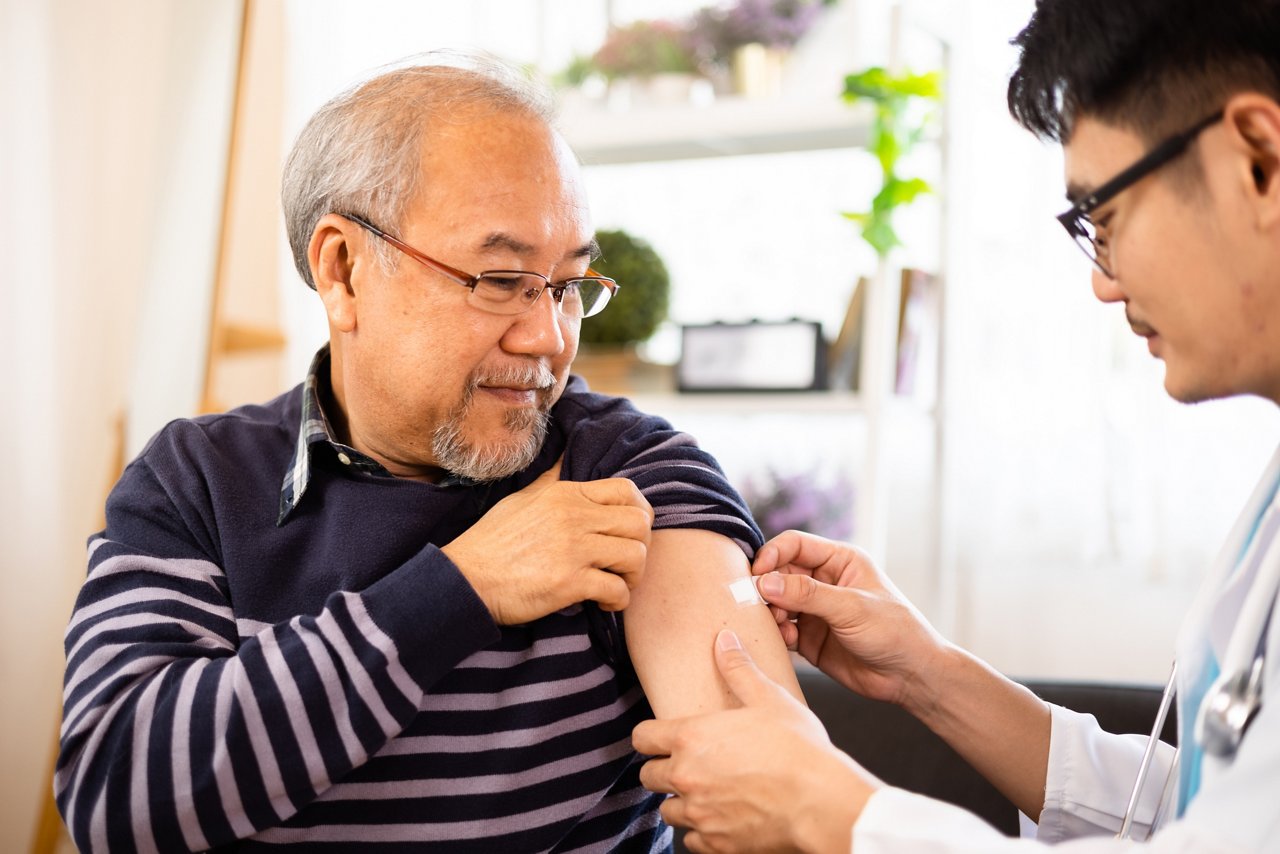 The arrival of cooler temperatures, changing leaves, and pumpkin-spiced coffee brings 1 unwelcome sign of the changing season: surging respiratory viruses.  
Thankfully, you can protect yourself against some of the biggest viral threats of the season with new vaccines that are available now. Two are updated vaccines, for COVID-19 and flu. The 3rd is brand new and protects against respiratory syncytial virus (RSV).  
The new vaccination choices offer prevention across the age spectrum – from newborns to older adults. By fending off the severe respiratory symptoms associated with these viruses, the vaccines could help prevent hospitalizations, as well as secondary infections and other long-term health issues. They could also prevent sick days from work or school. 
In mid-September the US Food and Drug Administration (FDA) approved updated COVID-19 vaccine booster shots. By targeting what's known as the "XBB lineage" of the Omicron subvariant, both vaccines offer broad protection against several currently circulating COVID-19 strains.  
The Centers for Disease Control and Prevention (CDC) recommends that everyone ages 6 months and older receive one of the updated COVID-19 shots to protect them against the virus throughout the fall and winter. The reason is that even though recent variants of the virus have mostly caused milder symptoms than the original virus, COVID-19 can still raise the risk of hospitalization and death. It can also lead to long COVID, which results in symptoms that last for a month or longer. 
Healthy adults who have been previously vaccinated need only 1 dose of a COVID-19 booster. People who are immunocompromised may benefit from an additional dose but should talk to their physicians for further guidance, the CDC recommends. Children may need more than 1 dose depending on their previous COVID vaccinations. COVID-19 vaccines are free for anyone living in the United States. 
This year's seasonal flu vaccines have been updated to protect against 2 strains of influenza A and 2 strains of influenza B that are predicted to be the most likely to spread and cause illness. The CDC recommends that everyone ages 6 months and older receive the flu vaccine. Some children will need 2 doses, depending on their vaccination history, and the vaccines will be available throughout the fall and winter for anyone who needs a little extra time to get protected.
Many flu vaccines are egg-based, but an important new development in 2023 is that people with a history of egg allergies can receive any flu vaccine – without having to follow special safety precautions. The CDC updated its recommendation for people with egg allergies based on studies showing that severe allergic reactions to either the shots or the nasal vaccines were rare. That said, the CDC recommends that patients who have had allergic reactions to any vaccine in the past discuss the risk with their physicians and get the vaccine in a setting that's equipped to manage reactions, such as a pharmacy or health clinic. Many Blue Cross and Blue Shield of North Carolina (Blue Cross NC) members are eligible to receive a flu shot at no cost. 
Vaccines that combine protection against the flu and COVID-19 are in development, but for this year, they are separate shots. It is safe for you to get both vaccines during the same visit, the CDC has determined. 
RSV is a respiratory virus that is most prevalent in the fall and winter and usually causes mild, cold-like symptoms. In infants and older adults, however, the virus can become severe, requiring hospitalization.  
Earlier this year, the FDA approved two RSV vaccines for adults. Both were cleared for use in adults over 60, and the CDC recommends that patients discuss RSV vaccination with their health care providers and whether it is okay to receive the RSV vaccine with other vaccines. People with weak immune systems, chronic heart disease or respiratory diseases such as asthma face a higher risk of severe RSV. To help you decide whether the vaccine is right for you, your provider will take these risk factors into account, along with other considerations, including your personal vaccination preferences. The RSV vaccines are available as a preventive service.   
One of the new RSV vaccines was also approved for use in pregnant women. The CDC recommends that expectant mothers receive the vaccine if they are 32 weeks to 36 weeks pregnant during RSV season, which typically runs from September through January. An added benefit is that if they get the vaccine at least 2 weeks before delivery, their babies could be protected against RSV for life, the CDC says.  
Browse related articles
© 2023 Blue Cross and Blue Shield of North Carolina. ®, SM Marks of the Blue Cross and Blue Shield Association, an association of independent Blue Cross and Blue Shield plans. All other marks and names are property of their respective owners. Blue Cross and Blue Shield of North Carolina is an independent licensee of the Blue Cross and Blue Shield Association.