An empty plate can undermine mental health and well-being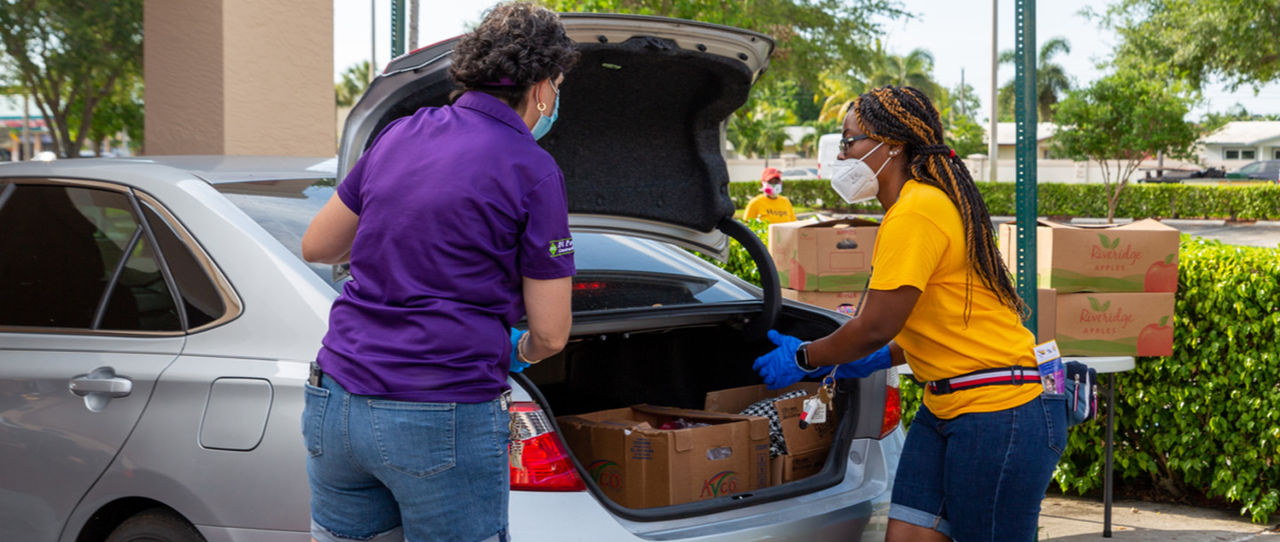 Feeding America has estimated that more than 50 million Americans experienced food insecurity in 2020. That statistic represents much more than an economic and nutritional crisis. It's also a brewing mental health crisis.

Most research on the issue finds that food insecurity is associated with higher levels of depression, stress and anxiety. As a result of the pandemic, food insecurity has doubled (PDF) in the United States. Among households with children, those numbers have tripled.
Because the effects of food insecurity are cyclical, this crisis will likely impact the well-being of millions of individuals and their families. And the effects will last long after the pandemic's immediate threat has subsided.
The effects of food insecurity
People who experience food insecurity have limited access to nutritionally dense foods. They are more likely to fill caloric intake with fats and refined carbohydrates. This pattern can lead to vitamin deficiencies and chronic illnesses, including diabetes, obesity and hypertension.
Physical problems soon multiply, leading to poor sleep and decreased physical activity (PDF). Exercise is an important tool for maintaining mental health, so the odds of depression and anxiety increase as activity slows.
American culture is defined by the ideals of self-sufficiency and independence. Asking for assistance can provoke feelings of shame, guilt or inadequacy.
Furthermore, the need to visit public food pantries and meal kitchens makes food security issues uniquely "visible." In other words, the fear of being seen as vulnerable might undermine mental health. It can discourage individuals from seeking assistance.
Feelings of responsibility
In many cases, people who face insecurity don't just worry about how to feed themselves. They also feel the burden of providing for family members.
Parents who experience food insecurity are at a high risk for anxiety and depression. Single mothers experience high rates of poverty in the United States. And studies indicate that women may be particularly vulnerable to the mental health impacts of poverty and food insecurity.
Investing in strategies that work
Food security is the most commonly reported unmet social need. Blue Cross and Blue Shield of North Carolina (Blue Cross NC) understands that people without healthy food cannot be healthy. That is why we have prioritized improving food security for all as part of our broader effort to address the non-medical drivers of health that undermine well-being.
Several of our initiatives specifically address those areas where food security and mental health intersect. For example, Blue Cross NC teams with community-based organizations to increase enrollment in Food and Nutrition Services (FNS) and the Supplemental Nutrition Assistance Program (SNAP). We assist members when they are eligible for these programs and connect them to resources that offer support through the enrollment process. Just as critically, these efforts focus on destigmatizing participation in the programs.
Other Blue Cross NC efforts also take steps to reduce the stigma of food insecurity. For example, one program delivers fresh produce directly to the doorsteps of eligible members with type 2 diabetes. This makes the process of receiving food assistance more discrete. Another functions as a prescription-based food purchasing program. This approach empowers eligible members by giving them agency.
We are also testing an Integrated Companionship Support Model to address the emotional and physiological effects of social isolation. The program offers transportation to markets and help buying groceries, among many other supports.
Blue Cross NC is driven to improve the health and well-being of our customers and communities. But our efforts depend on the community-based organizations with local expertise and a mission-driven focus on food security. Our cross-sector collaborations harness local resources to make a real impact on the ground – from local neighborhoods to rural zip codes.
Promoting food security requires a whole-person approach
The research makes it clear: It takes more than sustenance to address the wide-ranging impacts of food insecurity. It requires a whole-person approach.
By putting primary care practices at the center of a coordinated approach, Blue Cross NC's signature value-based Blue Premier program integrates mental and behavioral health. This positions the primary care provider to direct each patient to the right care at the right time – which can include helping patients find local resources that support food access and reduce the mental health impacts of food insecurity.
Through leading innovation in value-based care, identifying and testing long-term strategies and supporting countless philanthropic efforts across the state, Blue Cross NC is helping North Carolinians put nutritious food on the table to improve physical and mental health.
Browse related articles
© 2023 Blue Cross and Blue Shield of North Carolina. ®, SM Marks of the Blue Cross and Blue Shield Association, an association of independent Blue Cross and Blue Shield Plans. Blue Cross NC is an abbreviation for Blue Cross and Blue Shield of North Carolina. Blue Cross and Blue Shield of North Carolina is an independent licensee of the Blue Cross and Blue Shield Association.