Food is medicine. And now Blue Cross NC has the data to prove it.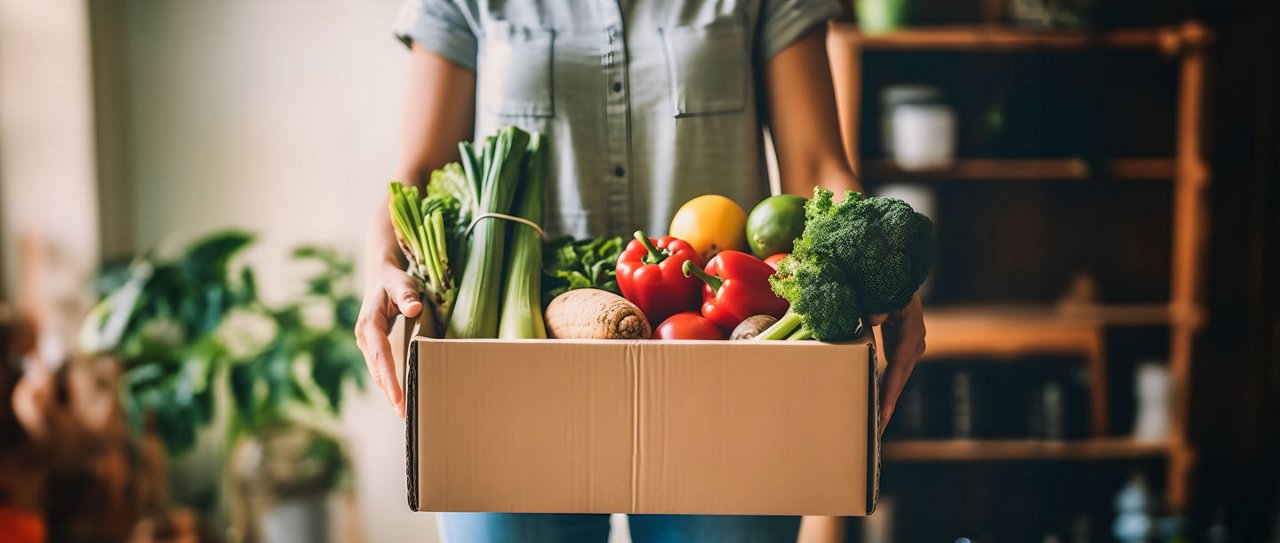 Eating enough of the right kinds of foods is fundamental to our health. But there are many factors – social, environmental, financial and geographic – that affect our access to proper nutrition and a healthy diet. Blue Cross and Blue Shield of North Carolina (Blue Cross NC) has a unique role to play in helping our members live the healthiest lives possible. We're taking the lead among health insurers with an innovative, direct-to-member strategy that is already showing great promise in improving health in our state.
Our practical approach to addressing non-medical drivers of health includes improving food security through direct food delivery and health coaching. Proof of our concept was published in NEJM Catalyst in March 2023.
Blue Cross NC partnered with Pack Health, A Quest Diagnostics Company, to implement a six-month program to active Blue Cross NC members with Type 2 diabetes identified as being at high risk for food insecurity based on the level of federal subsidy for Affordable Care Act insurance plans. Pack Health adapted their usual three-month coaching program to a six-month duration.
The program, which finished in December 2021, included participants across the state and featured two core components: health coaching and twice-monthly food box delivery.
After six months of health coaching and food delivery, our data showed important health improvements. Of the 555 members who completed the six-month program:
Food insecurity dropped by half, from 42% to 19%.
Obesity reduced from 69% to 63%.
Physical health and mental health improved in members scoring at or above US average measures from 51% to 63% and 68% to 79%, respectively.
Medical expenses reduced, showing the potential for upfront investment to bring continued reductions.
The coaching component involved at least weekly communication between an individually assigned health coach and program participant.
Health advisors were national board-certified health and wellness coaches employed by Pack Health. Health advisors engaged participants to understand individuals' specific food needs, situation, and cultural preferences, and to identify one or more health goals.
During weekly contacts, health advisors supported participants in refining goals and developing healthy choices. Communication between health advisors and participants included phone, mail, email and text messaging.
Twice per month, participants received $60 worth of groceries delivered directly to their homes. Participants chose from three to four rotating food boxes, which included fresh and shelf-stable items. A typical food box included beans, salmon, rice, crackers, carrots, applesauce, pasta, sauce, crushed tomatoes and milk. Each delivery was accompanied by easy-to-make recipes.
Food security is a major priority in our efforts to address the non-medical drivers of health that impact well-being. In recent years, North Carolina has ranked among the hungriest states, so we know the need is urgent here.
Blue Cross NC has made significant investments to provide fresh, healthy foods to children, families and seniors across the state, along with nutrition education to improve eating habits. From these investments, we expect to see a return in the form of healthier communities, a more productive workforce, and lower health care costs for everyone.
Converting data into action
In 2021, Blue Cross NC launched a strategic, enterprise-wide effort to address non-medical drivers of health in new and inventive ways. The key to this effort is a commitment to collecting and analyzing actionable data to inform practical solutions. The Blue Cross NC Drivers of Health team is conducting multiple model programs to address issues like social isolation, fall prevention and food security.
Our food delivery and health coaching model program provided indications of promising improvements for our members. But it's crucial that we act on the data we've collected and examine longer-term impacts on health outcomes and medical expense savings.
How can we design insurance plans that put our members in the best position to get and stay healthy? How are health care and insurance needs changing across our state's diverse regions, counties and communities? How can we deliver the most immediate and profound improvements in health? How do we design "food is medicine" programs for providers to prescribe nutritious foods instead of costly medications for conditions like diabetes?
We now have a business case that starts to answer these questions. We can begin to design health insurance products that address food security, one of the most significant non-medical drivers of health. Changing nutrition and eating habits through food delivery and health coaching can help improve health at an individual and a population level, lowering demand for health care and reducing costs. At the same time, we will continue to analyze our data to identify potential longer-term cost savings.
Transforming the health of North Carolina is our goal, but to do that, we must also transform health insurance. One additional data point indicates the support for this sort of transformation: 44% of program participants said they expect these kinds of drivers-of-health benefits from their insurance company.
Blue Cross NC is guided by feedback from our members, evolving the way we do business and the way we serve our communities to meet changing needs. This feedback drives our innovation and inspires our dedication to our mission to improve the health and well-being of our customers and communities – and we won't stop until health care is better for all.
Browse related articles
© 2023 Blue Cross and Blue Shield of North Carolina. ®, SM Marks of the Blue Cross and Blue Shield Association, an association of independent Blue Cross and Blue Shield plans. All other marks and names are property of their respective owners. Blue Cross and Blue Shield of North Carolina is an independent licensee of the Blue Cross and Blue Shield Association.