Need advice on breastfeeding? Do what makes you a happier mom.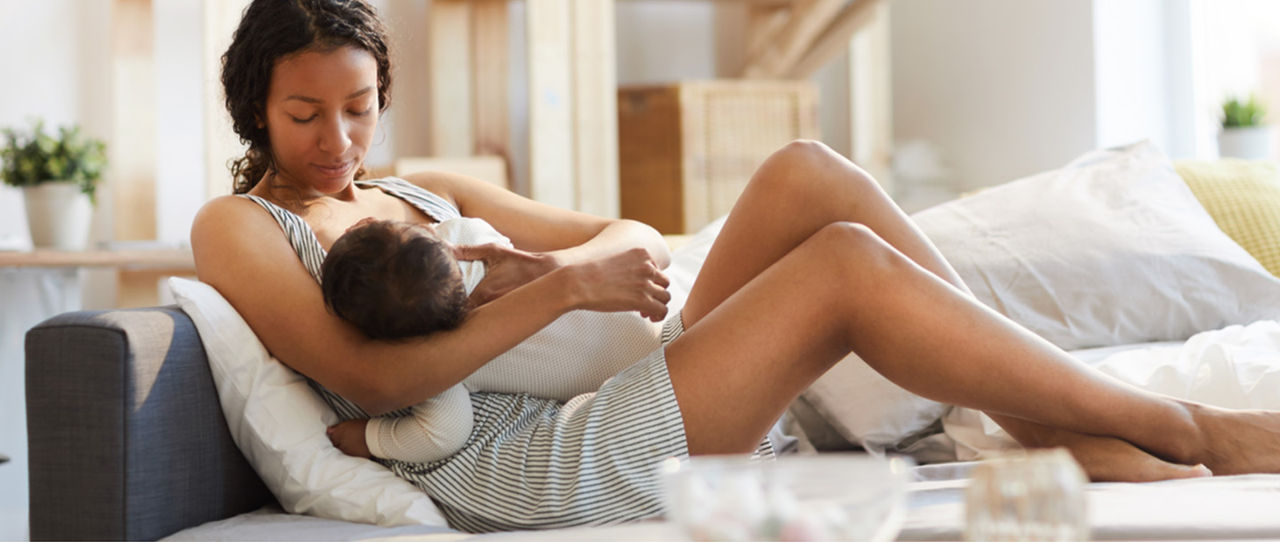 It's been six years since I wrote a post titled "5 Reasons Mixing Breastfeeding and Work is Absolutely Worth the Effort". The happy 6-month-old baby in that picture, with the chubby thighs and wide grin, is now a sassy first grader who loves cheetahs and gymnastics and recess.
The world has definitely changed since then, especially in the last 18 months with the COVID-19 pandemic. But as someone who has more than three years of experience in breastfeeding my two kids – I would say that my advice from that post hasn't changed much, if at all.
Working (and stay-at-home) moms who choose to breastfeed still:
Maggie lifts her smiling baby girl over her head.
Become queens of multi-tasking. Though this really applies to parenthood in general. These days, you could technically pump and Zoom, but probably keep that camera turned off!
Don't have to spend money on formula. But there is absolutely no judgment from me, or from the medical community, in feeding formula. It's a fantastic alternative to breastmilk, but it's not cheap!
Have that sweet unwind after the workday. Years later, I look back on this time with great nostalgia. These days my kids just want snacks, which I suppose is the same thing, and then retreat to their rooms for homework.
Exercise their rights. Many new moms are working from home these days, which makes it so much more convenient to pump. But for those in other settings, there are legal requirements to provide a non-bathroom space to pump and reasonable break times for doing so.
Don't have to do it forever. I stopped nursing my son and daughter at 16 months and 22 months, respectively, and I only have a handful of friends who went this long or longer. Whether it's two months or two years, it will go by quickly.
I have several colleagues at Blue Cross NC who are new moms, and I have absolutely loved seeing their sweet newborns on video meetings. I talked to one of them, Charlene, recently.
Charlene and her husband are both employees of Blue Cross NC and are staggering their parental leave so their baby can have more time at home before going to daycare. Charlene's son is a bundle of cuteness on the other side of the screen – cooing in his little infant seat.
"People make breastfeeding look so easy," Charlene laughed. "It's actually not."
Her son was born four weeks early and started supplemental formula at the hospital. She has been almost exclusively pumping the past three months. While she admits it's difficult to juggle working, pumping, and new parenthood, she has a great reason for continuing.
"I was vaccinated from COVID-19 during my last trimester of pregnancy, and my breastmilk contains protective antibodies for my son. That's really my main reason for doing this."
In a pandemic, I really can't think of a better reason. (But here are a few more really great reasons from the CDC.)
Charlene's advice: "Do what makes you a happier mom. For me, that means listening to my body and knowing that I need sleep to function and to be more present for him the next day – which may mean I'll skip a 2 a.m. pumping and instead use formula, and I'm okay with that."
I completely agree. I've been a mom for almost a dozen years now. There are so many choices that we have to make for our children – starting with that first question of how to feed them. There is no right answer, and we all have to do what's best for our own individual circumstances.
Is breastfeeding easy? As Charlene pointed out, no it really isn't. It can be messy and time-consuming and overwhelming. It's oddly not intuitive for something so "natural." It is wrought with societal judgement (in 2021 some people are still offended by seeing a baby nursing in public!) and unfounded self-induced guilt (for not nursing longer or at all).
It's complicated, but it's also pretty amazing. Charlene said, "It's so cool that our bodies do this – that we can supply literally the perfect food for our babies."
She's not sure how much longer she'll continue pumping and may exclusively feed formula in the near future. "There are pros and cons to any way of feeding," she said. "Just remember that your happiness as a parent matters too."
I can already tell Charlene is going to be a great mom.
© 2023 Blue Cross and Blue Shield of North Carolina. ®, SM Marks of the Blue Cross and Blue Shield Association, an association of independent Blue Cross and Blue Shield Plans. Blue Cross NC is an abbreviation for Blue Cross and Blue Shield of North Carolina. Blue Cross and Blue Shield of North Carolina is an independent licensee of the Blue Cross and Blue Shield Association.