Exercise from home with online classes (plus two free options)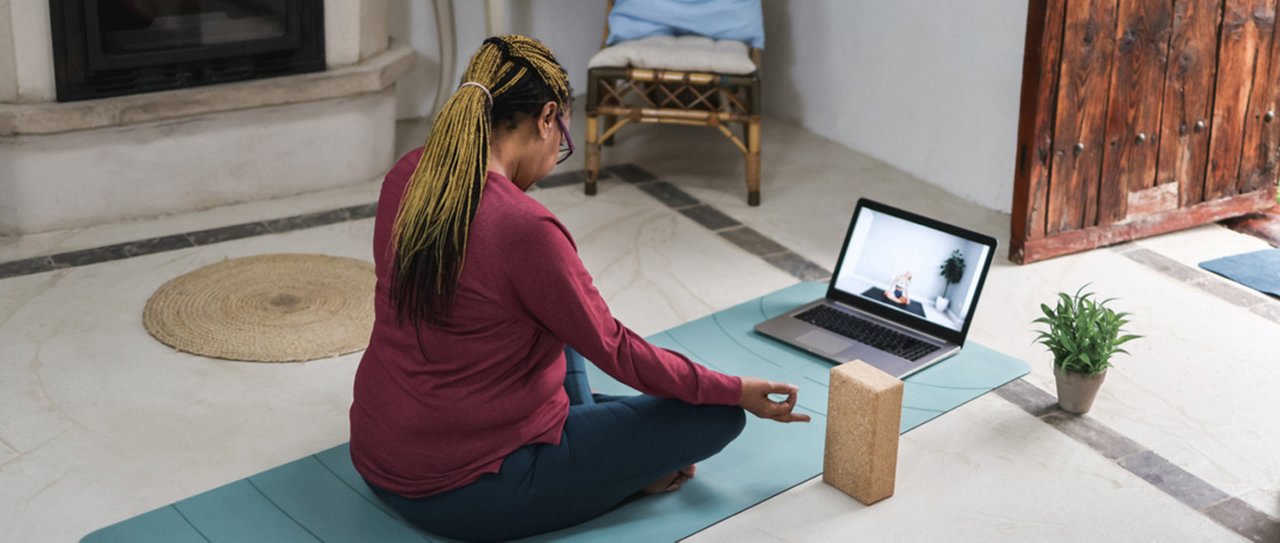 Online exercise classes became one of the hottest trends in fitness during the pandemic. And that trend shows no sign of slowing. Since millions around the world have discovered the advantages of virtual classes, online formats are here to stay.
Exercise can help you feel better and get healthier, too. Regular physical activity is proven to help lower the risk of heart disease, type 2 diabetes and some cancers. It can improve blood cholesterol level, lower blood pressure, and strengthen your muscles, joints and bones. It also helps you manage your weight, boosts your immunity, and even benefits your brain and mental health.
Perhaps you would like to get started with exercise but aren't sure how to do it. That's where exercise classes can be super helpful! And with online virtual classes enabling you to do it at home, taking a class is now easy to do.
Benefits of virtual workouts
The plusses of online classes include:
Convenience – don't have to drive anywhere
Safety – no need to social distance or wear a mask
Comfort – exercise at home (for more on that, see my tips for working out with limited space and budget)
Accountability – live classes provide you a regular exercise schedule, so your workout gets done
Privacy – great for those who are shy about working out in front of people
Instruction – instructor-led exercise is easier to follow than doing on your own
Variety – with countless formats available online, there's something out there for everyone
Great when traveling – you can do it wherever you are staying
For many people, time and cost are barriers to joining a gym. This can especially affect older adults, caregivers or those with a disability. Online classes make fitness accessible to anyone with an internet connection.
Try our free live online classes
Currently I am leading two free, live online classes sponsored by the Blue Cross NC Raleigh Center:
Chair Fit (Tuesdays at 10:00 a.m.) is a seated exercise class that will help you become stronger, more energetic and more flexible. It's a full-body program that includes strength work, stretching, and relief for your aching joints and body. This class is beneficial for those with arthritis or mobility issues. Many of the exercises can be done standing, if preferred.
Boomer/Senior Fitness (Thursdays at 10:00 a.m.) is a fun, effective full-body exercise program. It includes light cardio, strength, flexibility, exercises to improve your balance and joints, and stretching. Movements are performed standing, or can be done seated if preferred. There is no getting down on the floor. The class is suitable for most fitness levels.
These classes are free and open to all, of any age. You do not need to be a Blue Cross NC member to attend. Register for free online exercise classes.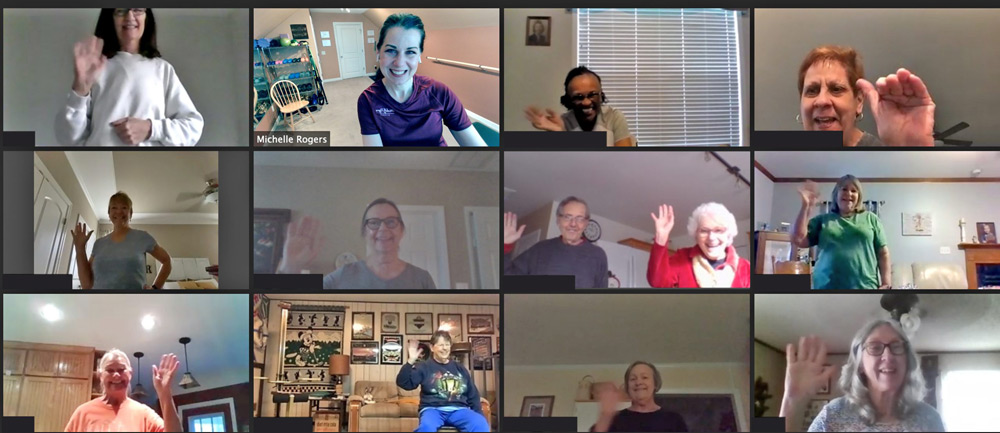 Classes are held live online via the Zoom platform. You can access them using your web browser on any laptop, computer, tablet or smartphone. And no, you don't need to be a tech wizard to participate! Before each class, I email participants a link for that day's class. Simply click on the link and it will take you to the class.
Roxie, a regular participant in both classes, said she likes the variety of exercises offered.
"Michelle has given us a strong foundation of exercises that can be used any time," she said.
She also enjoys the social aspect of a quick chat with others before and after class. Being able to join from anywhere if going out of town makes it even better.
"It is nice to meet new faces and have the chance to 'see' everyone socially at least twice a week," she said. "The Zoom classes also offer fitness regardless of location. We have said 'Hi' to folks traveling to New York and the beach several times this year."
The Blue Cross NC Raleigh Center plans to return to hosting in-person classes in the future, in addition to the virtual options. Having the online classes enabled us to reach people across the state, and the classes grew substantially.
"We are happy to offer an opportunity for our members and community to fellowship as well as work toward maintaining or improving their health," said Blue Cross NC Retail Centers Manager Cedilett Murillo. "The class is growing, and the availability is genuinely meaningful to participants."
For more information about the Blue Cross NC Raleigh Center, contact 888-275-7513, ext. 1.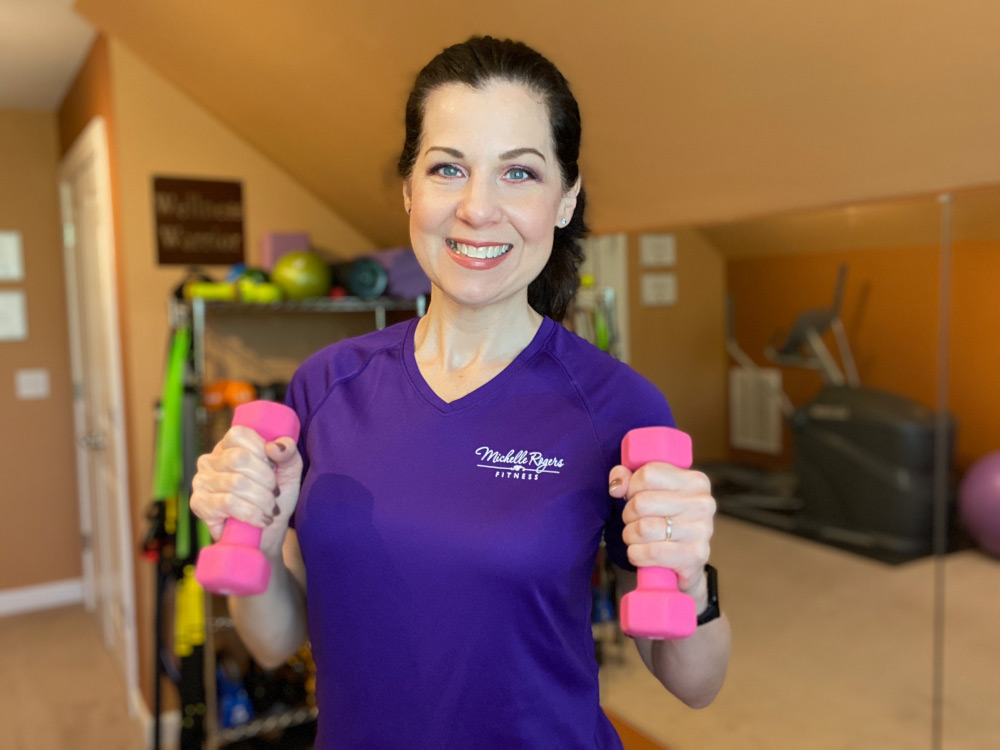 Class members see Michelle full-screen while she leads the exercises.
Tips for taking virtual exercise classes
Here are a few tips and tricks that will make your experience even better.
Sign in a few minutes early before class to ensure you're setup and connected. You can use a laptop, computer, tablet or smartphone.
Be sure your computer sound is on and turned up.
When using Wi-Fi, for a stronger connection ensure that others in the house aren't currently using it.
Bluetooth earbuds or an external speaker will greatly enhance your class experience, allowing you to hear more clearly.
You can still attend class even if your computer doesn't have a camera or internal microphone. You'll be able to see and hear and participate in the exercises, but the instructor won't be able to see or hear you.
In Zoom, there is an option to turn your camera off if you don't want others to see you. You can control if your mic is on or off as well. In the online classes I lead, once we start exercising I "spotlight" my video so that I am the only person participants will see on their screen, and they will see me full-screen.
The larger the screen, the better (though tablets and phones will work just fine, too). I have class members who screencast from their mobile device to their TV. They say it's like I'm right there in the room with them!
Deciding between in-person and virtual? You could do both!
Now that many people are vaccinated, you might be wondering: Should I go back to the gym, or stay virtual? That's a careful decision only you can make. But when you're ready to go back, you don't have to choose – you could do both! It doesn't have to be one or the other. You can have the best of both worlds.
If you haven't yet tried an online exercise class, what are you waiting for? Enjoy the convenience and flexibility of working out at home with your favorite online classes.
Get started today with exercise! You'll be glad you did.
© 2023 Blue Cross and Blue Shield of North Carolina. ®, SM Marks of the Blue Cross and Blue Shield Association, an association of independent Blue Cross and Blue Shield plans. All other marks and names are property of their respective owners. Blue Cross and Blue Shield of North Carolina is an independent licensee of the Blue Cross and Blue Shield Association.