5 of the most challenging hikes in North Carolina
You've been hiking a while now. You enjoy it and, if you may be so bold, you think you're pretty good at it. Okay, maybe you won't be hiking Everest anytime soon. But you are ready for something more challenging. Perhaps a lot more challenging.
Fortunately, you live in North Carolina, where the Southern Appalachians and some smaller but feisty isolated mountains offer some pretty good challenges.

I'm going to share five of those more challenging hikes. But before I do, a quick caveat, borrowed from the climbing community: A successful climb isn't about making it up the mountain, it's about making it up – and back down. That said, we offer a Plan B for each hike, an option you can take if it's just not your day. An option you can still take pride in achieving.

One more caveat: If you're pushing your hiking envelope with these hikes, do not do them alone. These are all strenuous trails, with challenges you may not have encountered on easier solo hikes near home.

1. Doughton Park, Blue Ridge Parkway, Roaring Gap
4.5-mile hike (one-way), gaining 2,400 vertical feet
Most folks familiar with hiking at Doughton Park are familiar with the Mountains-to-Sea Trail (a k a, Bluff Mountain Trail). It runs for 7.5 miles through rolling ridge-line meadows along the crest. But the MST's just the tip of the iceberg.

Doughton Park has 30 miles of trail, including four trails that snake up the face of the Blue Ridge Escarpment from the Longbottom Road trailhead. One of those trails is Cedar Ridge, which climbs with gusto from the get-go for the first half mile or so, then relents, somewhat, as it continues 4 miles and 2,400 vertical feet up to the MST.

Of course, once you get to the top, you've got to come back down. You can either reverse course or come down the Bluff Mountain Primitive, Grassy Gap or Flat Rock Ridge trails, for loops of up to 18 miles.

Plan B: Since you won't be hiking alone (see caveat No. 2, above), plan to leave a car at the top. If you need it when you get there, great. If you don't, it's a good excuse to experience the Blue Ridge Parkway upon your return.
2. Mount Mitchell Trail, Mount Mitchell State Park, Burnsville
5.6 miles (one way), 3,700 feet of elevation gain 
When anyone asks for a tough regional hike to train for a mountain hike out west, the Mount Mitchell Trail is our first suggestion. The hike begins in a Southern Appalachian hardwood forest near the Black Mountain Campground and climbs, climbs, climbs. Its effective use of switchbacks eases some of the pain, though two stretches, both less than a half mile, eschew the courtesy of a moderated ascent and just plough uphill.

Your first goal on this trip: the boreal forest that begins to show itself above 5,500 feet. By the time you summit 6,684-foot Mitchell, the highest point east of South Dakota's Black Hills, you're full-bore boreal and the temperature has dropped a good 15 degrees from the start. Pack a fleece (yes, even in summer).

Plan B: As is the case at Doughton Park, what goes up must come down, though you can elect to come down via a shuttle car parked in the State Park. If you go that route, consider tacking on the 2-mile out-and-back from Mitchell to Mount Craig, a rocky rollercoaster of a trail.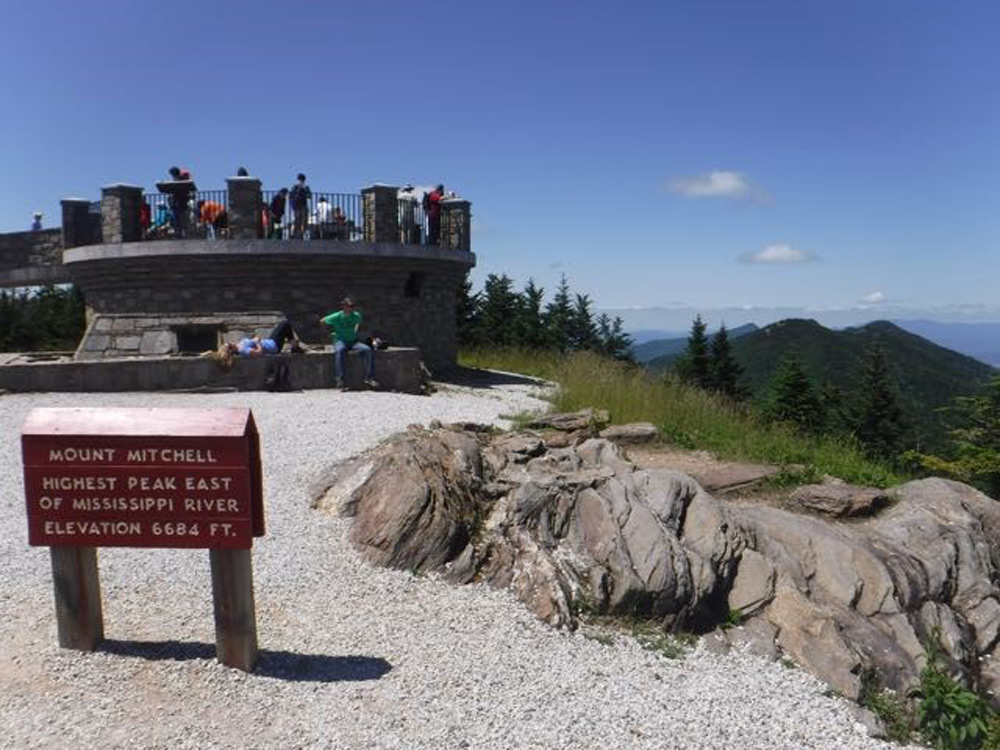 3. Indian Creek to Moore's Knob, Hanging Rock State Park, Danbury
8.3 miles (one way), 1,700 vertical feet
Don't discount the Piedmont when it comes to challenging hikes with elevation. One of our favorite hikes in the state, period, is this hike in the ancient Sauaratown Mountains range bookended by Pilot Mountain to the west and Hanging Rock to the east.

This hike begins innocently along the Dan River, climbing slowly at first through rich floodplain woods. After a mile or so warmup, the Indian Creek Trail begins to climb along its namesake creek, first to Window Falls, then Hidden Falls, before reaching the Hanging Rock Visitor Center after 3.6 miles. Here, hike down to the bathhouse and pick up the Moore's Knob Trail (hike it clockwise), to summit 2,579-foot Moore's Knob and savor the views.

Plan B: This hike involves leaving a shuttle car at the Visitor Center, where you'll complete the Moore's Knob loop. Thus, if you decide after hiking up Indian Creek that you prefer to leave Moore's Knob for another day, your chariot awaits.
4. Birkhead Mountain Trail, Uwharrie National Forest, Asheboro
11.6 miles, 1,361 feet of elevation
Looking more for distance than elevation? The Uwharrie National Forest – North Carolina's "Central Park" located within two hours of Charlotte, the Triangle and the Triad – offers a rolling lollipop loop that lets you boost your mileage PR. (And the 2-mile hike in doesn't let you totally avoid a quick but stout elevation gain).

Starting from the Tot Hill Trailhead on the Birkhead Mountain Trail, you do most of your climbing at the start – while your legs are good and fresh – gaining about 350 vertical feet in the first mile. About 2.5 miles in you reach the loop portion of the hike, with the Robbins Branch Trail coming in on your right.

Continue straight for a half mile on the Birkhead Mountain Trail, and after topping out at Camp 5, the next 2.5 miles trends downhill. The Hannah's Creek and Robbins Branch trails bring you back to the BMT for your return to the trailhead.

Plan B: At the 3-mile mark, if you decide it's not an 11.7-mile day, take the Camp 3 Trail on your left. It will take you downhill past rock outcrops to North Prong of Hannah's Creek, then veer north through an abandoned gold mining area back to the BMT the mile-and-a-half hike back to your car. Total distance: 6.7 miles.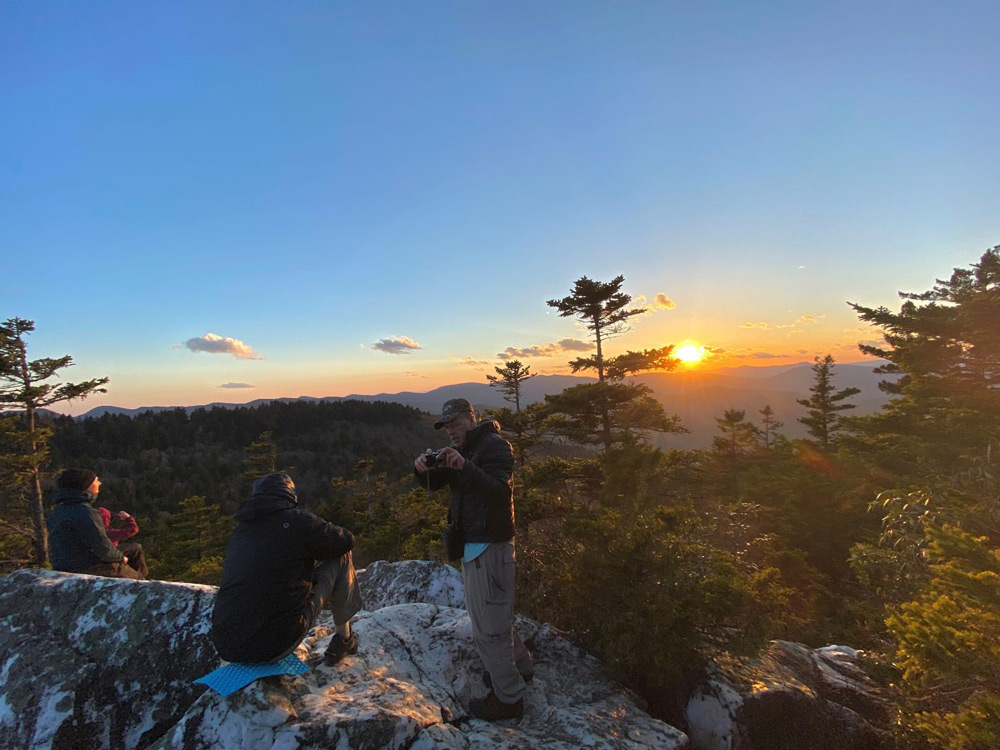 East Shining Rock Climb
5. Shining Rock Trail to Shining Rock, Pisgah National Forest, Canton
9 miles (up and back), 2,620 vertical feet
Come summer, the Black Balsam access to the Shining Rock Wilderness and surrounding environs is packed, and it's easy to see why. There's only about 500 feet of overall elevation gain on the 4.5-mile hike to 6,002-foot Shining Rock. Lots of reward with moderate effort.

Ah, but start at the trailhead off US 276 and take the Shining Rock Trail to the summit, and you'll be in rare company as you gain more than 2,600 vertical feet on the 4.5-mile climb along Shining Rock Creek.

There are short bursts of intense climbing, but for the most part it's a steady march up. At the 3.5-mile mark, the trail steepens and can be difficult to follow in spots. At just over 4 miles the trail Ts into the Art Loeb Trail. Go right for a short distance to Shining Rock Gap, then pick up the short trail leading to the summit, where some rock scrambling is required. This challenge is best undertaken by hikers comfortable in the backcountry.

Plan B: The only Plan B option on this hike is the option available on every hike: simply reverse course when you sense the summit isn't going to happen. At the first hint of flagging, remind yourself that you aren't just hiking to the top, you have to hike back down as well. Older mountain climbers only get older because they know when to say "enough." The summit will always be there tomorrow.
© 2023 Blue Cross and Blue Shield of North Carolina. ®, SM Marks of the Blue Cross and Blue Shield Association, an association of independent Blue Cross and Blue Shield plans. All other marks and names are property of their respective owners. Blue Cross and Blue Shield of North Carolina is an independent licensee of the Blue Cross and Blue Shield Association.