5 tips to rock your virtual interview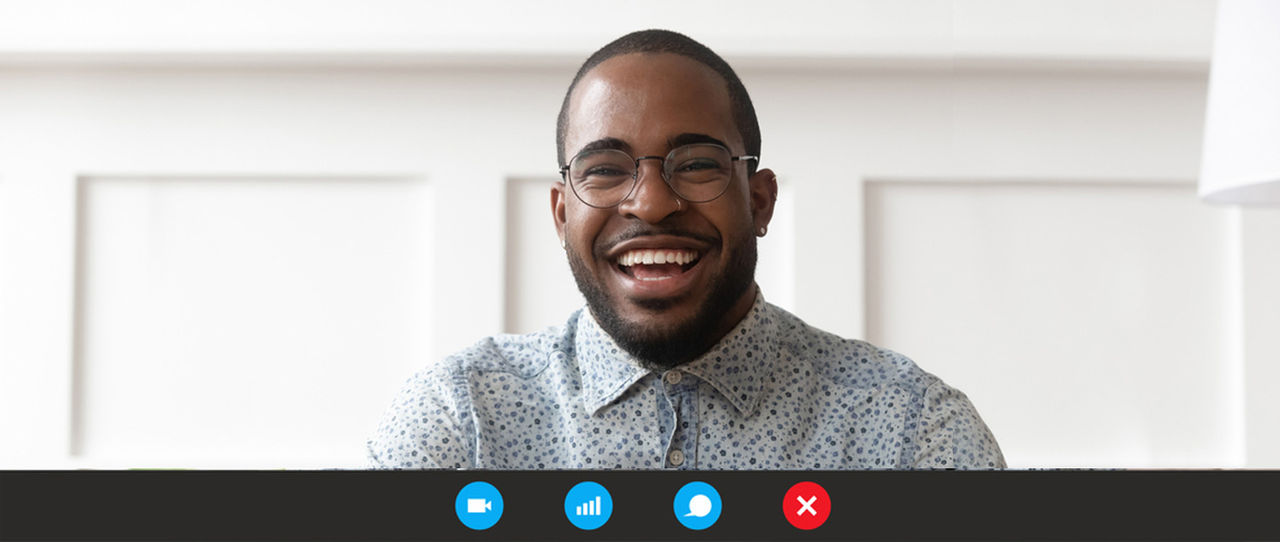 You get the call that you've made it to the interview. You do a happy dance. You're one step closer to starting a new chapter in your career. Then, reality sets in. What questions will they ask? How's my lighting? Is my background OK? Will my dog bark?
Interviewing is overwhelmingly nerve-wracking. We get it, and we're right there with you. Most of our employees work remotely, so chances are that your interviewer is probably hoping their pup doesn't make a peep, too.
Putting your best foot forward during a virtual interview doesn't have to be as stress-inducing when you're prepared for the big day. To help ease your nerves, get ready for your video interview with these tips from our Talent Acquisition team:
Test your technology beforehand and communicate with us if things happen
We have all experienced unexpected technical difficulties at the worst possible time. Make sure to check your connection before your interview. You should also make sure you've downloaded and created an account on whichever platform your interviewer is using. (At Blue Cross NC, we like to use Microsoft Teams). This can eliminate a last-minute scramble to get logged in and join the interview.
Wireless connections, pets, and other people in your home can be unpredictable. Things happen – and we get it. If you don't have access to internet or anticipate any challenges, let your recruiter know. Our team is ready to work with you to remove barriers that could stand in the way of you landing your dream job with us!
Find a quiet, private place to take your interview call or have your video interview. We completely understand that life happens. Maybe a roommate or pet makes some noise, and we won't judge you for that. However, we encourage you to do your best to step away and minimize unnecessary sounds.
You should choose a background that is free of distractions. You may even choose to blur your background or use a fake background image. A neutral background is a great bet. Whatever you choose, just make sure it's appropriate and allows you to shine. We won't be evaluating your décor. We just want to hear about you and why you're the best fit for the position.
Lastly, you would think this is a no-brainer, but triple check to make sure your phone is on silent. You'd be surprised how many people don't do this.
Like the saying goes, dress for the job you want, not the job you have. We typically wear business casual; though, you'll often catch us in T-shirts – because, you know, it's that work-from-home life.
But during an interview, you should stick to business professional. That doesn't mean you have to go all out in a fancy outfit, but you should dress a step above a polo shirt or casual top. A nice business jacket will give you a polished look – and make you feel more confident for your interview, too!
Know who will be interviewing you
Typically, when you interview with us, you'll meet with a variety of people for about 30 to 45 minutes each. Most of the time, the entire interview day lasts between two to four hours. You'll meet with your hiring manager – that is who would be your manager when you join the team – people you would work with who may or may not be part of your team, and the talent acquisition consultant (aka, your recruiter).
Before every interview, we send you an itinerary that outlines your interview schedule as well as who you'll meet. To help you feel comfortable, it's a good idea to do some quick research to get the lowdown on who's who.
Be prepared for behavioral questions (you know, the STAR kind)
We use a behavioral interview method called Targeted Selection. It's tried and true to predict future performance based on past behavior. Not everyone you interview with will use Targeted Selection, but you'll definitely get these types of questions at some point. To nail them:
Be prepared with real-life scenarios to answer questions like: "Tell me about a time when you weren't satisfied with your work. How did you handle the situation?"
List all kinds of examples to clearly articulate projects you've worked on and how you've handled certain situations. To ace this part, talk about situations or projects you've been in, what your specific role was, and the outcome of those scenarios or projects. Think about a difficult interaction you've handled with a peer or client, how you overcame challenges on a project with a tight timeline, etc.
Practice the STAR technique to answer behavioral questions. Follow this format to tell the story of how you handled the situation:
Situation/Task: Explain the specific circumstance or task.
Action: Describe what you did – the steps you took and how you went about it.
Resolution: Share a measurable accomplishment, outcome, or what you learned.
Taking notes is more than OK
Taking notes not only helps you remember all the things you talked about, but it shows you're engaged. Be sure not to go overboard on the notetaking though.

Have 3 to 5 good questions in mind to ask
Unless you don't want the position anymore, it's a good idea to ask questions. Being curious shows that you're interested. Some of your questions may be answered during your conversation. Even so, you should ask a couple questions. You're being interviewed, but you're also interviewing those you meet to make sure it's a good fit for you too. Getting answers about life at Blue Cross NC will help you feel confident in your decision to be part of our team (or not).
Glassdoor has a great list of 45 questions to ask in an interview to help you get to know your role, the manager and the company better. Some of our favorite questions to ask:
What does a typical day look like?
How would you describe the culture and work environment?
What's your team's biggest accomplishment this year, and what's the greatest challenge?
What do you enjoy most about working here?
Send a follow-up thank-you email
Remember to ask for email addresses of your interviewers if you don't already have them. It's a good idea to send a follow-up email after each part of the process (i.e., after your phone interview and in-person interview). When you send your email, try not to make it too generic. You can still make yourself stand out by making it personal and tailoring your message. Remind them of the skills you bring to the table that make you a perfect match for the job; what you learned about the role or company that you really liked; and, reinforce why you want to be part of the team.

Interested in working with us?
Browse related articles
© 2023 Blue Cross and Blue Shield of North Carolina. ®, SM Marks of the Blue Cross and Blue Shield Association, an association of independent Blue Cross and Blue Shield Plans. Blue Cross NC is an abbreviation for Blue Cross and Blue Shield of North Carolina. Blue Cross and Blue Shield of North Carolina is an independent licensee of the Blue Cross and Blue Shield Association.