Get to know our CEO: Q&A with Tunde Sotunde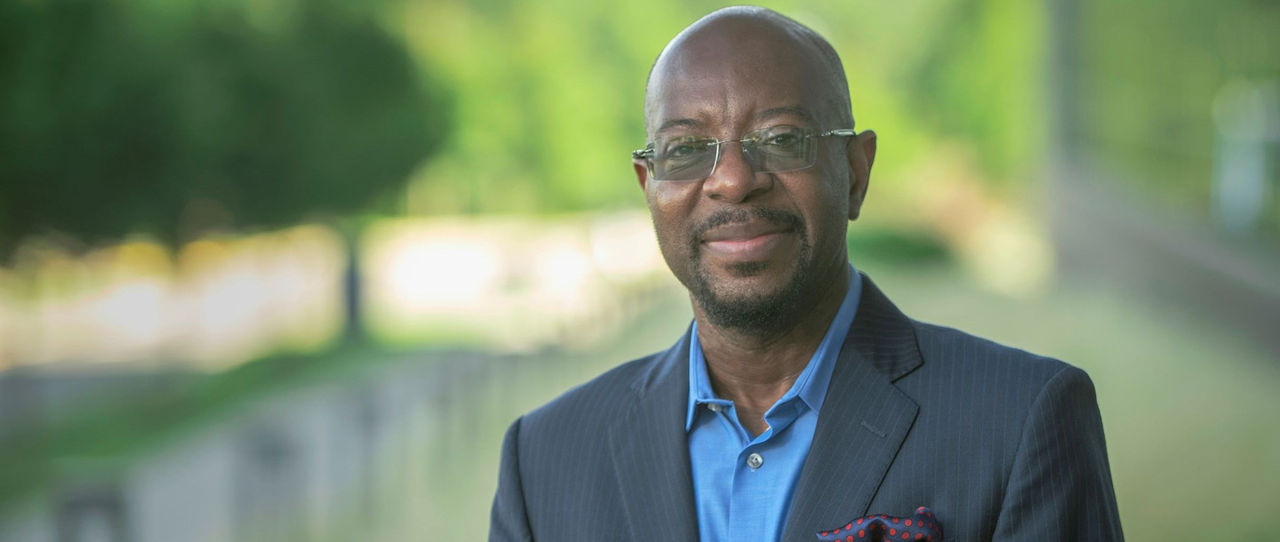 Dr. Tunde Sotunde officially joined us on June 1 as Blue Cross NC President and CEO. Tunde, as we call him, was born in Nigeria where he spent his early childhood before attending boarding school in England. In the early 1990s, Tunde immigrated to the U.S. where he completed his pediatric residency training. Outside of his passion for improving the health care delivery system, he's an avid aviation enthusiast and enjoys leisure travel with family and friends.
Get to know our CEO – his priorities, his experience practicing medicine in Trinidad and Nigeria, and what he likes to do for fun – in this Q&A.
What attracted you to Blue Cross NC?
Blue Cross NC is well regarded within the state and the Blue Cross and Blue Shield Association for its innovation, culture and commitment – not only to its consumers but also the communities in which they live. It's one of the premier health plans in the country. It plays a leading role in addressing critical health issues. The opportunity to work with and lead this team is, frankly speaking, like a dream come true.
I'll bring the perspective of a physician, a patient, and a health plan leader to our work. Alongside our employees, I hope to help make health care better, simpler and more affordable. Our work is even more critical at this time as we, together, support our customers through COVID-19.
What would you like people to most know about you?
First and foremost, I am a husband and a father. Second, I'm a physician. I care about people. Making a positive difference for people every day is what energizes me. Third, I am extremely mission – and purpose-driven. I thrive on achieving results.
Now that you've been at Blue Cross NC for a few weeks, what has surprised you the most?
It shouldn't come as a surprise, but the people here really care about each other and making a difference in the lives of those we serve. I knew the culture was strong, but it has been incredible to see just how open the culture is.
What are your thoughts on the recent social issues and events occurring across our nation?
Too many lives are being lost, and we are confronted with the disconcerting notion that the lives of some are deemed less valuable – and less worthy of dignity, compassion, and humanity – than the lives of others. As we grapple with our personal feelings and experiences, including myself as a father of four teenage children, there are important questions in front of us: How can we help each other heal and move forward meaningfully to address the inequities that exist in our society today?
The first step is to acknowledge that there is a problem of inequality on several levels in this country. Next, we need to begin a much-needed national constructive dialogue to understand how we got here and, ultimately, determine the way forward together.
How would you describe your leadership style?
I believe that culture is foundational to delivering results. One of the greatest legacies of a leader is to cast an enduring leadership shadow based on trust, integrity, transparency and honesty.
I'd say my leadership style a blend of:
Servant Leadership (serving first and leading second);
Participative Leadership (championing diversity of thought, collaboration and open communication; and
Transformational Leadership (inspiring people to be at their best, building organizational agility and fostering a mission-driven, customer-first view in everything).
What are your top priorities?
I'd like to ensure our people, talent and culture are well aligned with our mission, vision and values. We need to drive sustainable growth and operational execution. And we must accelerate the organization's innovation.
You are a pediatrician. What drew you to health care? Do you still practice?
I would say health care was just a natural fit for me. I have always been intrigued by the sciences. I wanted to care for people, and I have a love for children. Specializing in pediatrics was a perfect opportunity to bring it all together. I did clinical practice up through 2009 and then had to pause due to the travel demands of the roles I have taken on since then. In North Carolina, I would like to practice pro-bono and/or seek a faculty teaching appointment with one of the local teaching hospitals.
Tell us your experience practicing medicine in Trinidad and Nigeria. What is health care like in those countries compared to the U.S.?
The healthcare infrastructure in these countries was limited, and we had to do more with less. Public health and community health workers were oftentimes the only access to care outside the main cities. Even the tertiary facilities in the major cities lacked personnel, supplies and equipment. I relied heavily on my clinical diagnostic skills as opposed to lab tests, MRIs, CT scans, and other diagnostic tools that are readily available in the U.S. These are practices that are relevant, even here in rural and underserved areas of North Carolina and other parts of the U.S.
Moving to North Carolina, college basketball is a big thing! Do you have a favorite sports team (hint—UNC, Duke or NC State will be asked about in the future)?
I'll have to plead the Fifth on that one and maintain a neutral position like Switzerland.
What do you like to do for fun?
As a family, we enjoy movie nights, watching our children play basketball, volunteering, and community service. Our favorite family activity is taking vacations together when we get the opportunity.
Browse related articles
© 2023 Blue Cross and Blue Shield of North Carolina. ®, SM Marks of the Blue Cross and Blue Shield Association, an association of independent Blue Cross and Blue Shield Plans. Blue Cross NC is an abbreviation for Blue Cross and Blue Shield of North Carolina. Blue Cross and Blue Shield of North Carolina is an independent licensee of the Blue Cross and Blue Shield Association.