Overview

Statewide care

Family-centered care

Whole-person care
North Carolina's children in foster care and their families have been subject to a regionally-managed, fragmented system of care, contributing to poor outcomes, placement instability and delays in achieving the security and permanency these families need. That is why it is time for our state to transition to a single source statewide plan, investing in more evidence-based treatments for youth and families, and leveraging resources from across North Carolina to alleviate lapses in care. We support the state's effort to move away from the current regional approach (PDF), building out a robust program to support both youth in foster care and their families across the state.
Blue Cross and Blue Shield of North Carolina (Blue Cross NC)'s Healthy Blue Medicaid plan already provides our families with integrated health care options that treat patients holistically, through a broad array of services and supports that meet their specific needs. We'll bring this proven, collaborative, family-focused approach to youth in foster care, leading to better outcomes and reducing the burden on the child welfare system – all so families, no matter where they live in North Carolina, can get the care they need to stay healthy and stay together.
From Fragmented to Integrated – Improving North Carolina's child welfare system through intensive, local coordination supported by a single statewide plan
From fragmented to integrated: a locally-focused statewide plan
From working through complex trauma to skill-based programs for parents, youth in foster care and their families have a broad range of individualized needs. A single statewide health care plan can best manage the full range of benefits and services meant to address them, including crisis intervention, treatment and placement coordination.
Through our Healthy Blue plan, we support the state's vision to transform the existing fragmented health care delivery model for youth and families involved with local Departments of Social Services (DSS) into one that offers seamless, integrated, and coordinated physical and behavioral health care – including care management and placement coordination for children and youth in foster care.
Ultimately, a single statewide plan will provide consistent, streamlined services that:
Offer care coordination in collaboration with county DSS caseworkers.
Ensure timely and seamless authorizations for treatment and placement.
Improve placement stability and crisis response, mitigating the risk of re-traumatization for vulnerable youth.
Create connections and build relationships throughout North Carolina.
Eliminate the need to screen services and assessments from other plans.
Reduce the excessive administrative burden on local DSS.
Integrate and centralize information with consistent standards.
Coordinate care effectively across providers to ensure continuity and ease transitions for youth and families.
Measure outcomes for every youth and family who receives care.
Blue Cross NC has an established statewide network of integrated services and programs that has served generations of North Carolinians, strengthening families and communities across the state for more than 80 years.
We know our state's communities because we're in them, providing localized solutions that meet their needs. Our extensive network of resources, programs and expertise allow us to deliver coordinated, evidence-based treatment to families across every region of the stat – and makes us uniquely qualified to reach more of them.
In partnership with DHHS, DSS and local providers, our Healthy Blue program will reach out to future generations of children and families before they enter the child welfare system, focusing on:
Quality and outcomes
Responsiveness
Simplicity and reduced administrative burden

Keeping families together
Alexander Youth Network's Therapeutic Foster Care Program for LGBTQ youth aims to recruit and train foster parents in Guilford County to provide LGBTQ youth in foster care with housing stability and resources to better cope with trauma and manage their mental health challenges.
Guilford County
Focus Area: Accessible Care
The Lumbee Tribe is increasing its recovery services for American Indians within the tribal territory, providing peer support, post-overdose emergency response, and a non-emergency hotline for information and resources.
Robeson County, Scotland Country, Hoke County
Focus Area: Behavioral Health, Accessible Care
Center for Child and Family Health
The trauma-informed training program by the Center for Child and Family Health provides training to mental health and child welfare providers and allied professionals throughout North Carolina, prioritizing counties with high numbers of children in the foster care system.
Mecklenburg County, Guilford County, Wake County, Durham County
Focus Area: Behavioral Health
Symmetry is a mobile health tool and platform by the Duke University Health System that standardizes opioid screening, prescribing and monitoring. The mobile app engages patients and their caregivers and helps address the complexities surrounding opioid treatment and misuse processes.
Statewide
Focus Area: Behavioral Health
UNC School of Medicine's Medication Assisted Treatment (MAT) Group Visit project integrates primary care, behavioral health and group therapy into a combined program, enabling researchers to train more providers and launch additional MAT programs across North Carolina.
Statewide
Focus Area: Behavioral Health
Rowan Country Health Department
The Rowan County Health Department has developed a Post-Overdose Response Team to offer emergency medical care and coordinated support to address the opioid epidemic affecting high-risk communities.
Rowan County
Focus Area: Behavioral Health
National Center for the Advancement of Prevention
This partnership between the Pacific Institute for Research and Evaluation (PIRE) and Stanly County EMS will enable first responders to assist opioid overdose survivors in seeking Medication-Assisted Treatment beyond immediate resuscitation.
Stanly County
Focus Area: Behavioral Health
Together for Resilient Youth's Forward Together initiative supports programs, systems, states, territories and tribes with effective recovery services for children, young adults, adults, seniors, families and other populations with mental or substance use disorders.
Durham County, Vance County, Granville County, Edgecombe County, Yadkin County, Craven County
Focus Area: Behavioral Health
Thompson Child & Family Focus Services
This endeavor by Thompson embeds a team of clinicians specializing in Family Centered Treatment (FCT) into the healthcare system of Cumberland County, NC. FCT's home-based treatment reduces the need for costly and often ineffective out-of-home placement for families and youth in the foster care system.
Cumberland County
Focus Area: Keeping Families Together, Behavioral Health
ECU's NC-STeP program expansion aims to increase access to behavioral health care services for students at Elizabeth City State University. The project embeds psychiatric providers at ECSU's student health center in an effort to provide integrated care.
Northeastern NC
Focus Area: Behavioral Health
TROSA is an innovative, multi-year residential program that empowers people struggling with substance use by providing comprehensive treatment, vocational training, education and continuing care. TROSA's program expansion improves access to services in Western NC.
Forsyth County, Guilford County
Focus Area: Behavioral Health
Through specially trained paraprofessional mentors, Reintegration Support Network is lessening the gaps in continuum of care in behavioral health treatment of youth ages 13 to 20 with challenges related to mental health, substance abuse, and involvement with the juvenile justice system.
Orange County, Chatham County, Durham County, Alamance County
Focus Area: Behavioral Health, Accessible Care
North Carolina Central University
North Carolina Central University's community counseling clinic, through its Counselor Education Program, will enhance access to counseling services for Durham and surrounding communities. The clinic will also serve as a training site for counselor education students and a research site for faculty, which will teach the principles of wellness, multicultural counseling, and social justice.
Granville County, Durham County, Person County, Vance County
Focus Area: Behavioral Health, Accessible Care
Blue Cross NC Apprenticeship Program
Blue Cross and Blue Shield of North Carolina (Blue Cross NC) has launched an innovative employment solution designed to provide career opportunities (PDF) for youth aging out of the North Carolina foster care system. The selected young adults will have full-time employment in our Blue Cross NC Centers and receive a wide array of social, educational and financial support to help them successfully transition to adulthood.
Wake County
Focus Area: Whole-Person Care
The Open Table provides youth who are aging out of the foster care system with a network of support through relationship building among "tables" of volunteers. The Open Table model ensures that youth in foster care are equipped with the skills, knowledge and resources they need to start an independent life when they age out of the child welfare system.
Statewide
Focus Area: Whole-Person Care
Wake Tech's Fostering Bright Futures program assists young adults making the transition from foster care by eliminating barriers to their educational goals. The service has doubled in size and expanded its core services since 2019.
Wake County
Focus Area: Whole-Person Care
The YVLifeSet program by Youth Villages serves roughly 80 NC counties, providing evidence-based transition services to youth who have been or are currently in foster care, juvenile justice or behavioral health programs. Trained LifeSet specialists meet with program participants weekly to assist with securing safe housing, getting a job, continuing education, coping with past abuse and neglect, building healthy support systems, and developing life skills.
New Hanover County, Brunswick County, Columbus County, Onslow County, Pender County
Focus Area: Behavioral Health, Whole-Person Care
SaySo - Children's Home Society
SaySo's Housing Flex Fund helps youth transitioning out of foster care avoid homelessness by addressing barriers to obtaining housing, including helping youth in need with deposits, short-term or partial rental assistance, rental and utility arrears, and acquiring essential furniture.
Statewide
Focus Area: Whole-Person Care
Blue Cross NC and Healthy Blue won't stop until health care is better for all, including the most vulnerable among us. We want to help build a system of care and well-being for youth and families across our state that delivers accountable care through localized support and accredited treatment. We know the value that home, family and community have on health and well-being. We see it every day, and we are committed to creating opportunities for every child and family across each of our communities to thrive.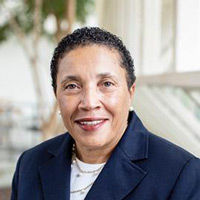 Fran Gary
Senior Vice President, Government Markets
A new statewide plan for youth in foster care and their families must include the entire child welfare population. From providing support services to biological families to reduce the need for placement, to post-placement support services for young adults up to age 26, the plan should meet the needs of both foster and biological families at every stage of care with an emphasis on continuity, even post-reunification.
And their individual needs
Blue Cross NC draws from decades of experience working with North Carolina's families to determine – and meet – their health care needs through family-centered, Medicaid managed care. With our Healthy Blue plan, families have access to a coordinated care team who can help design personalized health plans that address their specific needs at every stage of treatment, setting long-term goals and working toward the eventual re-unication of families.
We're working with experts across the state
By treating trauma and addressing behavioral health in an evidence-based, family-centered way, children can achieve optimal health and well-being.
Dana Marie Hagele, MD, MPH
Clinical Director, Children's Advocacy Centers of North Carolina
Collaborating with local DSS partners and our statewide provider network, the Healthy Blue team will focus on strengthening families, providing proactive interventions and enhanced crisis response with family-centered accountability.
Mark Washington
Executive Director, Healthy Blue North Carolina
Strong communities support strong families through whatever they're going through. Let's support North Carolina's most vulnerable youth and their families too!
Carmelita Coleman
Program Director, SaySo
It's about more than just health care. A statewide plan must provide comprehensive, whole-person care that addresses both physical and behavioral health needs for youth in foster care and their families, recognizing the complex trauma that many of these individuals battle each day. It needs to provide adequate crisis support that works locally but coordinates closely with providers across the state. And it needs to offer an accessible, holistic array of services based on trauma-informed and evidence-based treatment models.
Supporting behavioral health
Youth in foster care often have a history of adverse childhood experiences and complex trauma. The statewide plan should ensure that all youth have a trauma-informed comprehensive clinical assessment utilized across the system. This informs a culturally competent service plan that supports both child and family.
Keeping families together
In placements or after family re-unification, it's important that the plan creates stability that prevents re-traumatization for youth involved with the child welfare system. It's not just about youth in foster care, but those who have been and those that might be vulnerable. The plan should include proven, community-based programs that strengthen families and reduce the need for foster care placement.
Delivering accessible care
A statewide plan means that all available resources and programs will be accessible for youth in foster care and their families, no matter where in the state they live. We're committed to eliminating barriers to care that all participants, regardless of background or geography, receive the comprehensive care they need to thrive.
The Foster Care Advisory Council is a valuable resource that helps ensure foster youth and their families receive the highest quality of coordinated, trauma-informed, family-centered care.
© 2023 Blue Cross and Blue Shield of North Carolina. ®, SM Marks of the Blue Cross and Blue Shield Association, an association of independent Blue Cross and Blue Shield Plans. Blue Cross NC is an abbreviation for Blue Cross and Blue Shield of North Carolina. Blue Cross and Blue Shield of North Carolina is an independent licensee of the Blue Cross and Blue Shield Association.