Supporting students' mental health with more awareness and fewer phones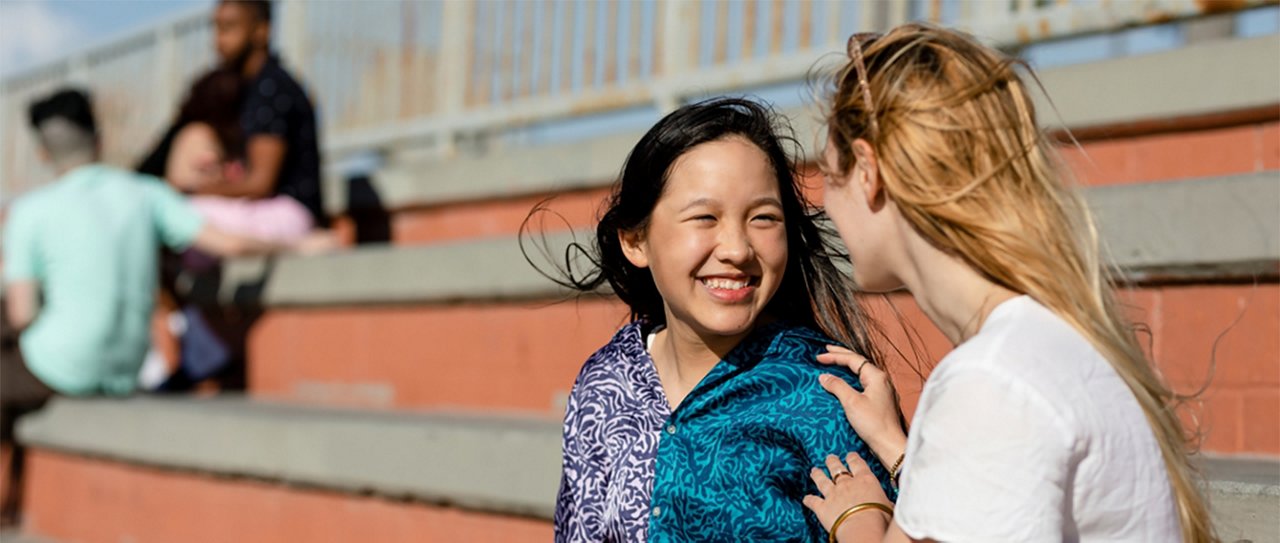 We can all agree – it's been a rough few years. A global pandemic is only the beginning of what we've all endured recently, and the consequences are staggering, especially for our youth.
At the end of 2021, 35% of North Carolinian adults were reporting symptoms of anxiety or depression, up from only 7.6% prior to the pandemic. Our state ranks 42nd in Mental Health America's 2022 Youth Ranking, with 16.68% of youth under 18 reporting at least one major depressive episode (MDE) in the past year.
And what's worse, according to the Bureau of Health Workforce, Health Resources and Services Administration, is that North Carolina only has 13.4% of the psychiatrists required to meet the needs of our state, an overwhelming issue in rural areas. Overall, 51.9% of the youth that reported an MDE did not receive any mental health service or treatment for their symptoms.
But these figures don't just outline a rise in mental illness. They can also indicate an increase in awareness around mental and behavioral health, a willingness to self-report on relevant symptoms, and an invigorated demand for mental health care. We're becoming more aware of how our mental health impacts our day-to-day lives.  And prioritizing it can make all the difference.
Every now and then, we all need the opportunity to disconnect
At East Duplin High School, teachers and administrators know just how important it is to support the mental health of students and equip them with the resources and confidence they need to seek care.
East Duplin High is located in the small town of Beulaville, home to about 1,200 people 40-some miles inland from the North Carolina coast. In May, the school brought in guest speakers for a week-long program called disconnected, which focused on mental and behavioral health.
Through directed conversations (and a full day away from the distractions of cell phones), students took a deep dive into what mental health means to each of us.
During the program, students viewed video each day that addressed a mental wellness-related topic. The videos came equipped with talking points and guides to help teachers discuss difficult subjects openly with their students and position themselves as a resource for kids in need.
As a social worker at East Duplin High for 12 years, Amber Tuck recognized the toll of pandemic-related isolation on her students. Teaming up with school administrators, local sponsors, and Blue Cross and Blue Shield of North Carolina (Blue Cross NC)'s county engagement team, Amber and her colleagues built out "disconnectED" to break down stigmas around mental health and connect their students with local resources and trusted confidants.
"There were lots of social issues – kids getting back into school with new classes and other students they don't know. That seemed to be a big struggle, causing a lot of anxiety and depression. It was just a lot of sadness," Amber recalled.
Because mental health care is so limited locally, Amber and her colleagues felt it was important to connect students to as many in-school resources as possible.
"In the entirety of Duplin County, we have just one psychiatrist and just a couple of mental health providers. And it's a very large county, so it could be a 30- or 40-minute drive to access services, depending on where you live."
In eastern North Carolina, families face all sorts of roadblocks to seeking mental health care: the scarcity of providers, the financial burden, and a general lack of knowledge among parents about what services are available to support their families during hard times.
One of the students who participated in disconnectED shared her experience with mental health growing up in a Hispanic community in Duplin County.
"In the Hispanic community, there's a huge stigma around mental health. Oftentimes, it's dismissed and neglected," she said. "I remember when I was younger, I would sometimes cry uncontrollably or have little manic episodes. My mom would tell me I was crazy and that nothing was wrong with me. It wasn't until I got older and it worsened that she started doing research and supporting me unconditionally."
The needs of youth who struggle with mental health and the resources they can access often depend on where they grow up. The further a region is from a major city, the fewer local resources are often available.
But East Duplin High is working to change that.
In the entirety of Duplin County, we have just one psychiatrist and just a couple of mental health providers. And it's a very large county, so it could be a 30- or 40-minute drive to access services, depending on where you live.
Amber Tuck
Social Worker
After a week of breaking down stigmas and developing a network of trusted confidants and resources, students locked their phones away and spent the day offline.
The school set up a fair for students to learn a little about self-care and the value of recreation. Students got the chance to leave their stressors inside the high school and, wearing new disconnectED t-shirts gifted by local sponsors, spent a beautiful day outside enjoying friends, sports, music, dancing, and food brought by local vendors.
disconnectED isn't new. The program was run for the first time in 2019, with much success. Now, after its second iteration in the wake of the pandemic, Amber hopes to host disconnectED more frequently – so that every student who goes through East Duplin High gets the chance to experience it.
"I think [students] really see the benefit with their daily mental health struggles. We want them to be comfortable enough with themselves to be able to talk openly. Watching these videos and having these conversations together, if a kid is having an issue, we hope they'll feel comfortable going to their teacher with it," she said.
Locally-driven resources like disconnectED can open minds and change lives
At Blue Cross NC, our county engagement team knows that local voices are the experts on their own health needs. Logan Smith, member of Blue Cross NC's county engagement team serving Duplin County, actually attended East Duplin High School herself.
"In January, I met with Principal Scott Ballard and counselors at East Duplin to discuss overall drivers of health and what they're seeing with students. When we discussed behavioral health, they shared with me that they wanted to do the disconnectED event again this year, and that's what we do! Our team works as a liaison between Blue Cross NC and local communities to help empower them."
Logan attended all the planning meetings for disconnectED. Blue Cross NC's Healthy Blue Medicaid plan provided funding and speakers for disconnectED's parents night – experts that talked to parents about the importance of mental and behavioral health care for their children and what resources are available to them.
Blue Cross NC's County engagement team members are embedded across the state meeting with local leaders to discover the strengths and challenges each community faces in their pursuit of better health, to connect them with resources that empower their efforts, and to help Blue Cross NC create tailored solutions for their unique needs.
For students at East Duplin High School, that meant a day without looking down at a device, and instead letting teachers, friends and a little fresh air work their healing magic.
© 2023 Blue Cross and Blue Shield of North Carolina. ®, SM Marks of the Blue Cross and Blue Shield Association, an association of independent Blue Cross and Blue Shield plans. All other marks and names are property of their respective owners. Blue Cross and Blue Shield of North Carolina is an independent licensee of the Blue Cross and Blue Shield Association.