NC salons aren't just turning heads – they're saving lives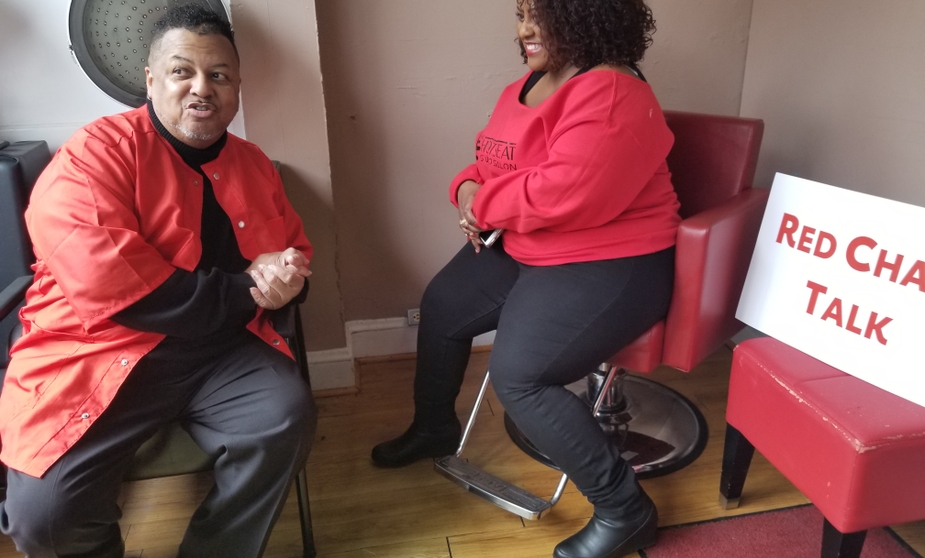 When you walk into your local hair salon, you're usually greeted by the aromas of shampoo and hair products. You'll see combs, scissors and brushes scattered across work spaces. You'll hear clippers and hair dryers, and stylists chatting with their clients. What you may not expect are conversations surrounding heart health and clients monitoring their blood pressure. But that's exactly what's happening in hair salons, barbershops and nail salons across North Carolina.
In 2018, The American Heart Association (AHA) and Blue Cross and Blue Shield of North Carolina (Blue Cross NC) partnered to address one of the highest-priority health issues facing North Carolinians: heart disease. Assessments by the AHA found that Black populations living in Charlotte, the Triad and the Triangle face a high rate of heart disease risk factors, including diabetes, obesity and high blood pressure. Preventive care could help identify these risk factors early, but inequitable access to health services makes doctor visits unobtainable for many. Compounding the issue is a lack of confidence within Black communities that their health concerns will be taken seriously.
The AHA and Blue Cross NC found that one way to improve heart health across the state was by reaching those at-risk early on through blood pressure monitoring. But the challenge was how to connect with this population. What would be the best way to cross paths with members in these communities and deliver potentially lifesaving heart health information?
The answer: Go where they go. And train who they trust.
A trusted space for socializing
Barbershops and salons are social gathering spots and trusted spaces in the Black community. The relationships built there are unique. Vulnerability flows easily. People can express their feelings and know they'll find a sympathetic ear. Simply put, it's a safe place.
"I grew up going to the barbershop as a child," says Charlz Henry, a hair stylist at the Hot Seat Studio Salon in Greensboro. "In our community, that's the meeting place. It's a place that we go to let go. There are people who come to the barbershop, sit there all day long and never get a haircut."
And so, these businesses became the key component to the initiative that the AHA and Blue Cross NC were developing for the Triad. In 2019, through a $750,000 investment by Blue Cross NC, the Hair, Heart & Health program officially launched – with hair stylists, nail technicians and barbers from 18 different businesses leading the way as AHA-trained ambassadors.
They outfitted their shops and salons with blood pressure monitors and educational materials, and arrived at work clad in T-shirts that read, "Ask Me About Heart Health." News of the initiative began spreading, as it tends to do in salons and barbershops.
Henry, a community college cosmetology business professor of 29 years and a stylist for over four decades, has heard his fair share of chitchat among those who frequent salons. Born and raised in Greensboro, he manages Hot Seat Studio Salon, which his sister, Nicole Henry-Huff, opened in 2005. To him, salons and barbershops offer the ideal atmosphere to spread important messages. Customers, he says, discuss all kinds of things. "Especially their health. I hear some of the most amazing and sometimes frightening stories," Henry says.
After learning about the Hair, Heart & Health program from a fellow barber, Henry was all in, becoming one of the program's first ambassadors.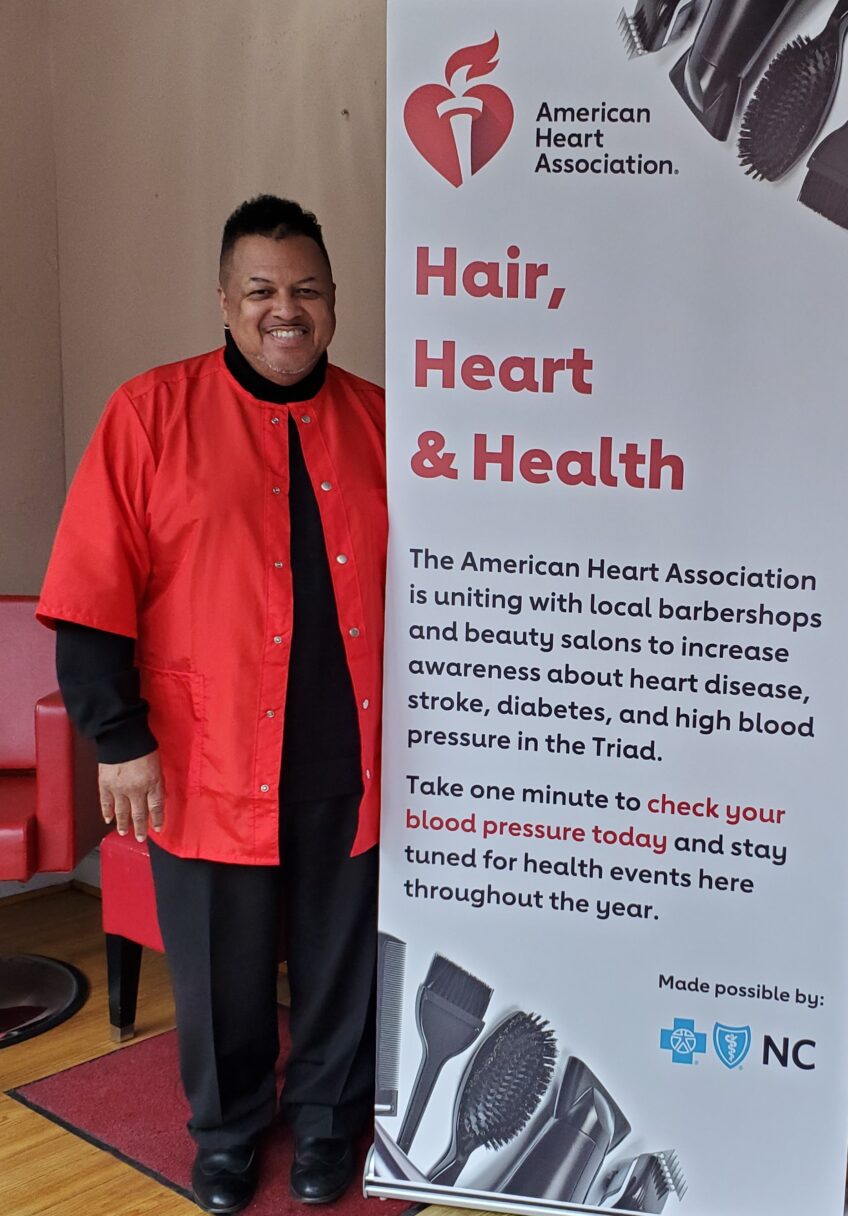 Charlz Henry stands next to the Hair, Heart & Health banner. The program is a partnership between the American Heart Association and Blue Cross NC. Credit: American Heart Association
Hair, Heart & Health in action
The Hot Seat Studio Salon has blood pressure monitors and a scale on site for anyone to use. There are no doughnuts or sweet treats; instead, fruit and healthy snacks are up for grabs. Health education materials line the bookshelf in the waiting area. The salon hosts Hair, Heart & Health events where community members attend blood pressure seminars and enjoy snacks and meals from healthy-eating focused food trucks.
Clients regularly ask Henry and his fellow ambassadors questions about heart health. Though they can explain the basics of risk factors and healthy living – hydration, diet, exercise and preventative care – they are mindful of the role they play. "We have a clear understanding of what we can and can't do. We never diagnose anything. We make referrals and we have a great referral list through the program," Henry says. They can, however, help change behaviors.
Clients regularly take a stroll around the block while their color or conditioner is setting. Many enter the salon and, before settling into a chair in front of their stylist, take their own blood pressure. It's become part of their salon experience.
Henry has personally benefitted from the health knowledge he has gained. In October 2022, Henry woke up in the middle of the night to blurred vision. He couldn't stand without falling. "The first thing I thought was, 'Something is wrong,'" he says. "The second thing was, 'Stay calm.'"
He drove himself to the closest emergency room, where he was diagnosed with vertigo and sent home. But the diagnosis didn't feel right, so he returned the next day and received a different diagnosis: a stroke. "I was thinking of all the things that I know from Hair, Heart & Health, and all the things that I know about my body. That experience was a testament to understanding the program."
A year earlier, one of Henry's clients succumbed to a heart attack, right outside the salon. "He was a muscular, athletic person and never would I have imagined that he would have a massive heart attack. The biggest takeaway is that we are not what we look like," Henry says. "Sometimes people are perfectly healthy or happy or thin, but they have things going on in their body that are going to be detrimental to them and their overall health."
Henry's stroke and his client's heart attack have been wake-up calls for the salon community. Stylists and clients alike check on one another and speak up if they have a concern. "We become family," Henry says. "Someone is looking, someone is watching and someone cares."
So far, program ambassadors have reached over 6,000 peers, sharing heart health information and the most up-to-date educational materials. The success of the program has spurred the AHA and Blue Cross NC to expand the initiative into rural areas of the state, aligning with the organizations' shared focus on rural health. This summer, the Hair, Heart & Health program will launch in Alamance, Caswell and Person counties.
"Preventive care is vitally important in rural areas, as care is not as easily accessible when emergencies, such as heart attack or stroke, arise," says Jennifer Graziano, American Heart Association's senior community impact director. "Our goals are to share health information, connect clients to strategies for managing their health and improve blood pressure management numbers in these rural counties."
The partnership between Blue Cross NC and the AHA goes back well over a decade. This initiative has proven to be just one more avenue to work together and better the health of North Carolinians by addressing health inequities.
"This partnership was such a natural fit," says Leo Scarpati, a community and diversity engagement program manager at Blue Cross NC. "We share a focus with the AHA on increasing rural health access and finding the most effective ways to connect the public with valuable health resources. The expansion of this program is evident of the impact made and the impact to come."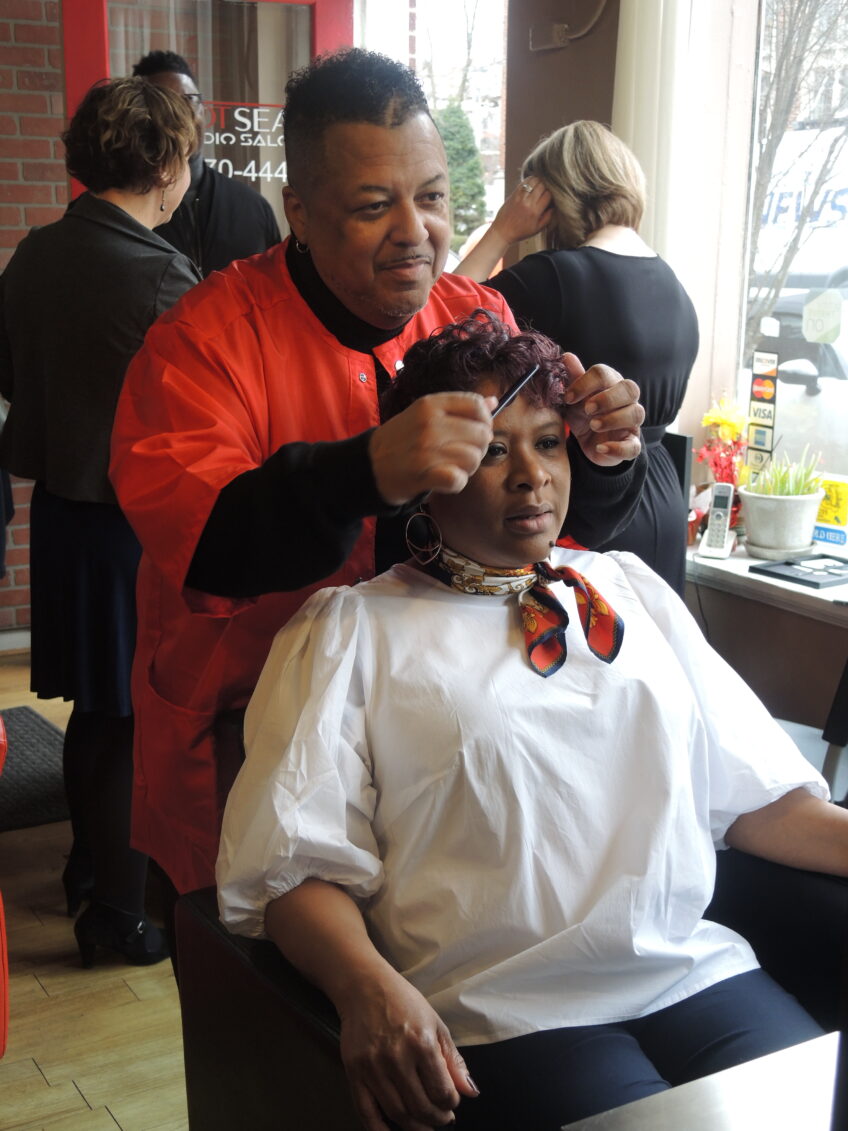 Charlz Henry with a customer at The Hot Seat Studio Salon in Greensboro, NC. Credit: American Heart Association
Henry is proud of the life changes that the salon clients have made. However, he notes that in the city of Greensboro, there are opportunities and access to care that other parts of the state simply don't have.
"I'm excited about any opportunity to grow the program," Henry says. "And the fact that it's expanding to more rural areas is so important because of the lack of access to health resources in those parts of North Carolina."
To this day, you can come to the Hot Seat Studio Salon to get a trim, highlights or a blood pressure reading. If you ask Henry the secret to healthy hair, he'd say "moisture" above all else. But, if you ask him about heart health, you better be prepared to stick around for a while and listen. It could save your life.
Browse related articles
© 2023 Blue Cross and Blue Shield of North Carolina. ®, SM Marks of the Blue Cross and Blue Shield Association, an association of independent Blue Cross and Blue Shield Plans. Blue Cross NC is an abbreviation for Blue Cross and Blue Shield of North Carolina. Blue Cross and Blue Shield of North Carolina is an independent licensee of the Blue Cross and Blue Shield Association.