Breaking the barriers to behavioral health access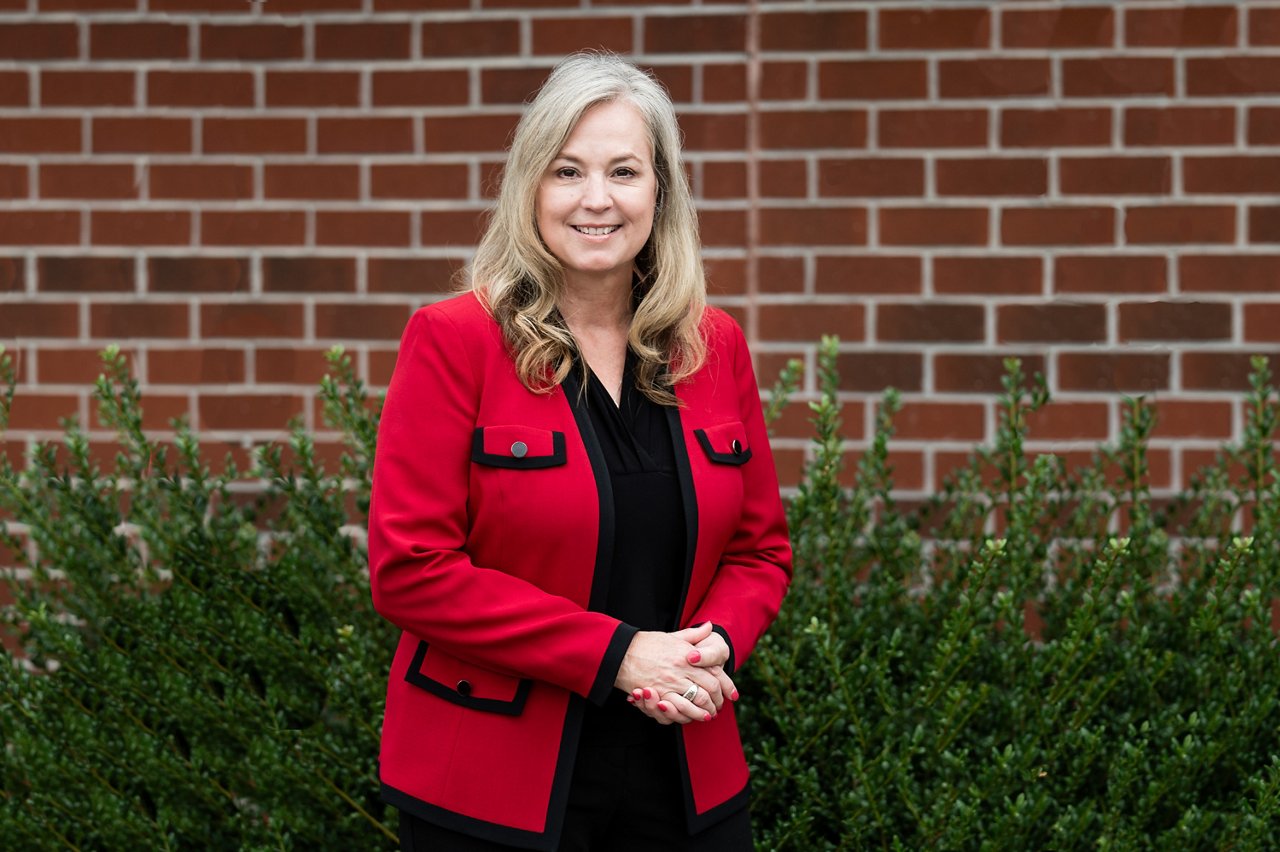 Every day, the doors of free and charitable clinics throughout North Carolina swing open. Administrators, physicians, nurses, and aides walk in and begin another day of serving others, amid a constant lack of resources.  
It's not a lack of resources to treat broken bones that they face, but rather a severe lack of behavioral health resources to treat the broken spirits that are surging in the state.  
April Cook is sharply aware of this issue. As the CEO of a nonprofit organization overseeing 70 wellness clinics across the state, the lack of resources is what drives her to improve access to behavioral health care in North Carolina. 
The American Medical Association describes behavioral health treatment as care that addresses mental health and substance-use disorders, life stressors and crises, and stress-related physical symptoms. External events, such as trauma or abuse, and internal struggles, like depression and anxiety, can wield a tremendous power over the way we behave.  
Nearly 1 in 3 adults in the past year had either a substance-use disorder or mental illness, according to a report from the Substance Abuse and Mental Health Services Administration. And primary care is often cited as the gateway to behavioral health care.  
Cook agrees. 
"Integrating behavioral health with primary care clinicians has been a game-changer resulting in better chronic disease outcomes," says Cook, CEO of the North Carolina Association for Free and Charitable Clinics (NCAFCC).  
However, according to the University of North Carolina's Sheps Health Workforce NC, 40% of North Carolina counties face a primary care provider shortage. And the state ranks 39th in the US for access to mental health services, based on data from Mental Health America. It's no wonder that many North Carolinians, especially the uninsured and underinsured, rely on free and charitable clinics for their health care needs. 
"Whether it's behavioral health, psychiatry, psychology, social work – there are so many needs and so many barriers that our population faces every day," says Cook. 
Building a holistic approach
Before taking on her position at the NCAFCC, Cook co-founded the Lake Norman Community Health Clinic (LNCHC) in Huntersville and served as its executive director for 22 years. She witnessed a range of behavioral health needs during that time, much of it centering around domestic abuse.  
"[People experiencing domestic abuse] suffer in silence. And so, when there are clinics that can reach out to people living with domestic violence, it is such a huge resource," Cook says. "They can talk about what's going on at home, how to deal with triggers in the home, how to deal with children who are witnessing domestic violence."  
Cook and her team learned that it takes a holistic approach to see behavioral health improvements. For example, when domestic abuse patients were afraid to park at the clinic in case their abuser might see their car, they told them to be dropped off instead. When patients' phones were being tracked by their partner, they were powered off during counseling sessions. 
Entire families came to the clinic for behavioral health services. "We had a patient who was overweight, bullied at school, with no one to talk to, no one that would understand because his parents had weight issues too," Cook says.  
The clinic gave the child resources to help with school. And his family received counseling, nutrition, and exercise coaching.  
"The entire family got better," Cook says. "That child made so much progress and we could see him blossoming after every visit. It's just so fulfilling to know that you've touched a life that was really suffering." 
When Cook became CEO of the NCAFCC in August 2022, she incorporated best practices in clinics throughout the state to replicate the positive behavioral health outcomes she saw at LNCHC.  
"It gave me the opportunity to advocate on such a larger stage and to take all the visionary ideas that I had and put them into action," Cook says.  
The NCAFCC is a non-profit network of 70 member-clinics, serving patients in 87 of North Carolina's 100 counties. Each clinic shares the same mission: to provide quality care and improve the health and well-being of uninsured and underinsured people in their communities.  
NCAFCC's clinics have experienced a 9% increase in behavioral health visits between 2021 and 2022. 
To help bridge the network gaps, Cook took a regional approach. She divided the NCAFCC clinics into 7 regions. Each region shares resources and medical specialists – such as dentists, pediatricians, and therapists – and regularly meets to discuss best practices.  
This strategy has expanded behavioral health services to 34 clinics. The goal of sharing behavioral health resources in each region is to give all patients access to care. 
Blue Cross and Blue Shield of North Carolina (Blue Cross NC) shares the same commitment to putting behavioral health care services within reach for those in need by expanding its network of providers and improving access to care by 25% come 2027. 
In 2022, Blue Cross NC committed to supporting 11 organizations focused on behavioral health access in rural and underserved parts of the state. NCAFCC was 1 of the organizations that received funding to scale its success. 
"For over 25 years, April has worked directly with the NCAFACC to advocate for the members and the staff working as a safety net for North Carolinians across our state," says Cheryl Parquet, director of community engagement at Blue Cross NC. "In partnering with people like April, we have a greater opportunity to achieve the health outcomes we are after."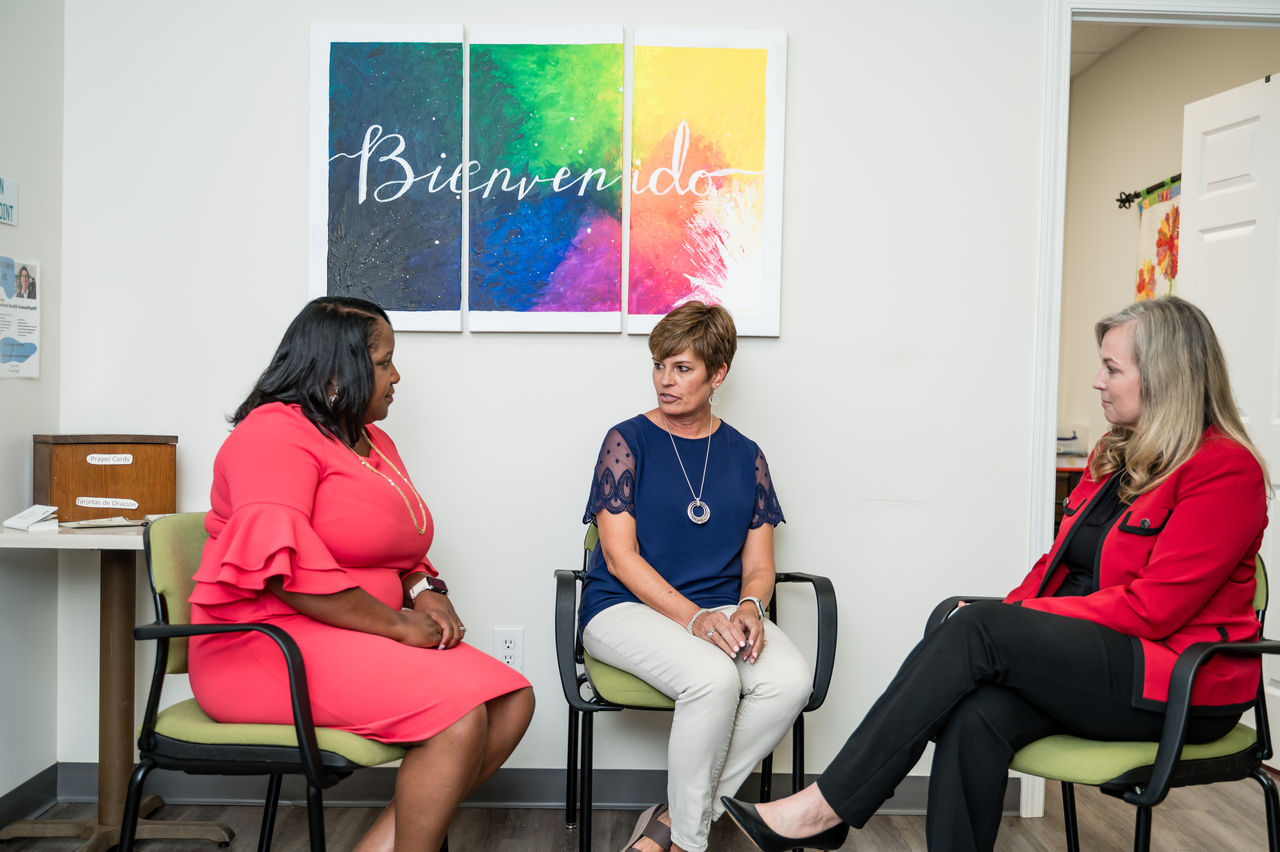 (Left to right) Cheryl Parquet, director of community engagement at Blue Cross NC, meets with Bridget Boyles, executive director of Hands of Hope Medical Center, and April Cook, NCAFCC CEO, to discuss the behavioral health initiative that Blue Cross NC supports.
According to Parquet, NCAFCC is the type of organization – and Cook the type of partner – that can help treat the behavioral crisis in North Carolina. 

As part of the Blue Cross NC grant, 2 NCAFCC member clinics – the Free Clinic of Rockingham County and Hands of Hope Medical Clinic in Yadkinville – have partnered with a counseling organization.  
Counselors work with the clinics' primary care providers to identify patients needing behavioral health services and offer counseling at the clinic. The grant also supports telehealth services and a training program for all NCAFCC members to integrate behavioral health into primary care settings. 
"April plays a pivotal role in connecting free clinics to a larger network, providing resources and expertise, advocating for their interests and fostering collaboration," says Bridget Boyles, executive director of Hands of Hope Medical Clinic. "The impact of [the Blue Cross NC] support has been substantial and far-reaching. It has increased access to care, improved quality of care and created a network of care that ensures patients receive the right level of support, whether it's within our clinic or through referrals." 
Cook, the NCAFCC team, and the clinics have redefined what primary care can do for North Carolinians, by sharing valuable resources and saving time so that more patients can access care.  
Most notably are the behavioral health specialists who have been incorporated into the clinics' offerings. The care they give patients provides a safe space, acceptance, and compassion.  
These specialists, working with primary care providers, help clinics treat the whole person, with the hope of mending all things broken. 
Browse related articles
© 2023 Blue Cross and Blue Shield of North Carolina. ®, SM Marks of the Blue Cross and Blue Shield Association, an association of independent Blue Cross and Blue Shield plans. All other marks and names are property of their respective owners. Blue Cross and Blue Shield of North Carolina is an independent licensee of the Blue Cross and Blue Shield Association.